Four members of the Hastings College Bronco Forensics team brought home a national championship from the National Forensics Association (NFA) tournament, and senior member Andrew Boge was named a national champion at the Interstate Oratory Association competition. This success follows the team's 8th place finish at this year's American Forensics Association National Individual Events Tournament  (AFA-NIET).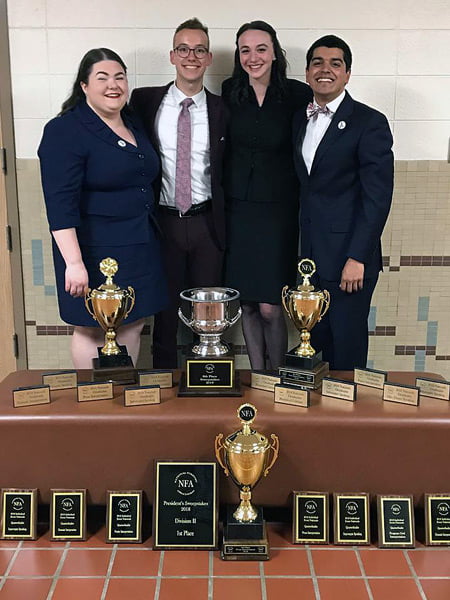 Seniors Caleb Merritt, Kenzie Shofner and Boge and junior Carly Spotts-Falzone competed at the NFA tournament in Oshkosh, Wisconsin in late April. With 20 out of 21 events breaking into octafinals from preliminary rounds, the team placed first in the Division 2 team sweepstakes, securing the championship within the division. In the overall team sweepstakes – which includes schools from all divisions – the team placed 8th in the nation.
Also in late April, Boge competed at Interstate Oratory in Monmouth, Illinois.
Interstate Oratory accepts just two representatives from each state to compete in the event, making the selection alone a national honor. Boge, who spoke on the topic of food deserts in predominantly minority areas, won first place – a national championship.
Included below are detailed results from NFA:
Kenzie Shofner, a senior from Orono, Minnesota, was an octafinalist in Prose Interpretation, Persuasive Speaking, Rhetorical Criticism and After Dinner Speaking, and was a quarterfinalist in Impromptu Speaking.
Andrew Boge, a senior from Johnston, Iowa, was an octafinalist in Rhetorical Criticism and Informative Speaking and a quarterfinalist in Dramatic Interpretation and Impromptu Speaking.
Caleb Merritt, a senior from Brookings, South Dakota, was an octafinalist in Informative Speaking, a quarterfinalist in Prose Interpretation, Poetry Interpretation, Dramatic Interpretation and Program Oral Interpretation, and took fourth in Duo Interpretation with junior Carly Spotts-Falzone.
Carly Spotts-Falzone, a junior from Wayzata, Minnesota, was an octafinalist in Informative Speaking, Poetry Interpretation and Dramatic Interpretation, a quarterfinalist in Program Oral Interpretation, placed third in Prose Interpretation and placed fourth in Duo Interpretation with senior Caleb Merritt.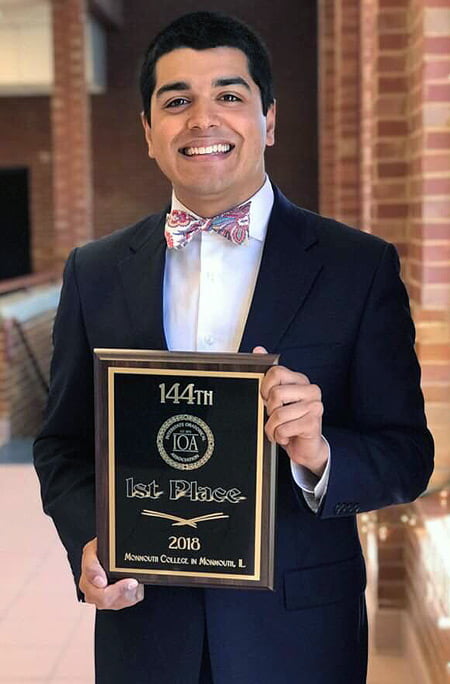 The Hastings College forensics team continues a long-running tradition of national competitive success, placing in the top 20 at the American Forensics Association National Individual Events Tournament (AFA-NIET) for many of the past ten years. Most recently, Hastings College placed 8th at AFA-NIET 2018.
Hastings College is a private, four-year institution located in Hastings, Nebraska, that focuses on student academic and extracurricular achievement. With more than 60 majors and 15 pre-professional programs, Hastings College has been named among "Great Schools, Great Prices" by U.S. News & World Report and a "Best in the Midwest" by The Princeton Review. For more, go to hastings.edu.