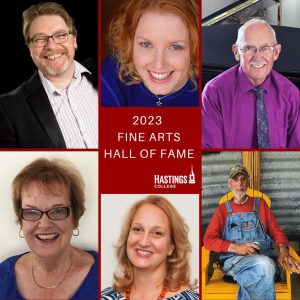 Six individuals will celebrate their induction as the fourth class to join the Hastings College Fine Arts of Fame during a reception and ceremony held in conjunction with Hastings College Homecoming on Friday, September 29 at Scott Studio Theatre (806 N. Turner Avenue, Hastings).
Appetizers will be served at 5:30 p.m., with the ceremony to follow at 6:30 p.m. Tickets for the event are $25 per person and may be purchased at hastings.edu/homecoming or by contacting the Hastings College alumni office at 402.461.7363 or alumni@hastings.edu.
The 2023 Hastings College Fine Arts Hall of Fame class includes:
Erica Christensen '00 of Burbank, California, for theatre
Jason Levering '97 of Omaha, Nebraska, for theatre
Carla Hanzal '87 of Charlotte, North Carolina, for art
Dave Stewart '61 of Hastings, Nebraska, for art
Stan Johnson '60 of Shickley, Nebraska, for music
Dr. Barbara Wheeler '70 of Surf City, New Jersey, for music
The Fine Arts Hall of Fame aims to recognize Hastings College alumni who are making a difference in their communities through their talents in fine arts.
Biographies of the 2023 Inductees
Erica Christensen '00 is a native of Omaha, Nebraska, and lives in Los Angeles, California, where she is a stage manager for live events in theatre, radio, corporate events, press events, stunt shows, immersive events, television events and award shows. She has worked with the Actor's Gang on the National Tour of "1984" and with the Center Theatre Group on the Pulitzer finalist and Tony Award-nominated "Bengal Tiger at the Baghdad Zoo." Her stage management of "Stranger Things Drive-Into Experience" was one of, if not the only, live experiences in Los Angeles during the fall and winter of 2020.
Among her television stage management greatest hits include "Beauty and the Beast: The 30th Anniversary Celebration," the Grammy Awards, Creative Arts' Emmys and Grammy Salutes to Aretha Franklin, Prince and The Beach Boys. She was on the DGA Award-winning team and Emmy Award-winning team of "Adele: One Night Only," along with the Academy of Country Music Awards, the Billboard Music Awards, American Music Awards, and "America's Got Talent." Christensen is also a proud member of I.B.E.W. Local 40, Actor's Equity Association, and The Director's Guild of America.
Jason Levering '97 is the programming director for Benson Theatre in Omaha, Nebraska. He is the co-founder of the Omaha Film Festival, for which he served as executive director for 15 years. Levering helped Benson Theatre gain national attention with his production of the first ever stage adaptation of Stephen King's "The Shining" in 2014, which he co-wrote and directed. His follow-up play, "Hummingbird," was written as a tribute to the late Robin Williams and was well received at the inaugural Omaha Fringe Festival in 2019. He is also currently serving as artistic director for the Omaha Fringe.
In the last year, Levering has found his way back on stage as an actor, which is where his passion for theater first began. He recently played the role of Alper in "The Tenth Man," and will be tackling the role of Dr. Seward in an upcoming reinvention of "Dracula."
Levering is a father, husband, social worker, writer, producer, developer of ideas, storyteller, and director.
Carla Hanzal '87 received a Master of Arts Administration at The American University, Washington, D.C., where she was a Truman Scholar and a National Endowment for the Arts Fellow. She is an independent curator and consultant in Charlotte, North Carolina, where she works with corporate developers and educational institutions to acquire or commission new works of art. Among several of her project highlights are collaborating with artist Sheila Hicks to assist with installation at Sao Paulo Biennale in 2012; securing panelists for the International Sculpture Center's Conference in Auckland, New Zealand, in 2013; consulting with Blowing Rock Art Museum and Cameron Art Museum to create exhibitions and sculpture installations; and consulting and procuring artwork for Armature Works in Washington, D.C., in 2022.
Hanzal previously worked as vice president of public art for the Arts and Science Council and Public Art Commission in Charlotte, North Carolina, from 2015 through 2021. In this position, she arranged for the acquisition and installation of publicly displayed artworks from many of the world's most prominent living artists. She was the curator of modern and contemporary art for the Mint Museum of Charlotte, North Carolina; chief curator of Virginia Museum of Contemporary Art; and held multiple director roles at the International Sculpture Center (ISC) in Washington, D.C.
Dave Stewart '61 was born in Hastings, Nebraska, in 1939. For most of his working career, he was the owner of a successful plumbing company. After retiring from plumbing and while working as a janitor in the Hastings College Art Department, he began making sculptures in 1988. By 1995, he was heralded by Norman Geske, then the director of the Sheldon Museum of Art, and Kyle McMillan, an art critic for the Omaha World-Herald, as being among the most important living artists in Nebraska. Stewart has exhibited solo at many colleges, universities, galleries and museums. Among the most important shows were ones at the Haydon Art Gallery, Des Moines Art Center, the Museum of Nebraska Art and at Assemblage in Lincoln.
It is significant to note that large blocks of his work have recently been acquired by major collectors: Robert and Karen Duncan, Marc and Kathy LeBarron, Diana Bosselman and Kiechel Fine Arts. MoNA and Hastings College both have extensive holdings of Stewart's work in their permanent collections. Stewart was the recipient of the Governor's Art Award in 2019. He presently lives at The Kensington in Hastings, Nebraska, where he continues to make art.
Stan Johnson '60, a retired band director, has been recognized by Marquis Who's Who Top Educators for dedication, achievements and leadership in music education. An expert in instrumental music education who thrived as a music educator for several decades, Johnson has been widely recognized for his professional achievements. He worked throughout his career as a band director and high school teacher for 48 years, the last 19 at Shickley High School. Upon his retirement in 2009, he became a part-time instructor in the University of Nebraska Omaha's music department until 2020.
The "School Band and Orchestra" magazine recognized him as one of Fifty Directors in the United States who have made a positive difference in children's lives during the 1999-2000 academic year. He was featured in "Teaching Music" magazine in 2006, with an article on Teaching Music In Rural America. The Nebraska State Bandmasters awarded him its Distinguished Service Award in 2007 and in 2018. In 2007, he was named Nebraska Music Educator of the Year by the Nebraska Music Education Association. In 2010, the National Federation of High School and College teachers named him one of 11 national winners, representing Nebraska. The Nebraska State Bandmasters awarded him the Donald A. Lentz Outstanding Bandmaster Award in 2019.
In addition to his degree in music performance and education from Hastings College, Johnson earned a master's degree in instrumental music education from the University of Northern Colorado–Greeley, and earned a lifetime teaching certificate.
Dr. Barbara Wheeler '70 holds the designation of professor emeritus from Montclair State University, where she taught from 1975 to 2000. She initiated the music therapy program at the University of Louisville in 2000, retiring in 2011. She presents and teaches in the U.S. and internationally, with current faculty appointments at the University of Applied Sciences Würzburg Schweinfurt, Department of Social Studies, Würzburg, Germany; and Karol Szymanowski Academy of Music, Katowice, Poland; and is the external examiner for the MA in Music Therapy at the Irish World Academy of Music and Dance, University of Limerick. She has been an active clinician throughout her career and worked with a variety of clientele, most recently with hospitalized patients, including oncology and rehabilitation.
Wheeler edited Music Therapy Handbook (2015); Music Therapy Research: Quantitative and Qualitative Perspectives (1995); Music Therapy Research (2nd Edition, 2005); is one of the editors (with Kathleen Murphy) of Music Therapy Research (3rd Edition, 2016); and is coathor (with Donna Polen and Carol Shultis) of Clinical Training Guide for the Student Music Therapist (1st Edition, 2005; 2nd Edition, 2017). She is also the author of numerous other articles and chapters. She is a past president of the American Music Therapy Association and received an Award of Merit from the American Music Therapy Association in 2016.
Hastings College is a four-year residential college that focuses on student academic and extracurricular achievement. Discover more at hastings.edu.