Continuing to expand its fingerprint internationally, Hastings College has signed agreements with several international universities, which will make it easier for Hastings College students to study abroad, and students at the partner institutions to study at Hastings College.
The initiative is an extension of the College's study abroad initiative set to launch in fall 2019. That program allows every Hastings College sophomore the opportunity to study abroad, with donors making the opportunity available at no cost for students.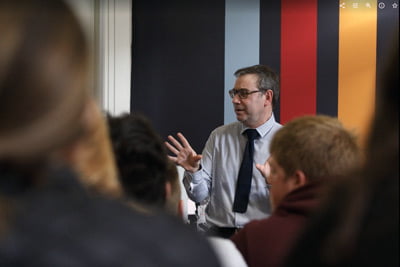 As more students have this study away experience, Grant Hunter, the College's director of international programs, said he anticipates students will look for opportunities to spend an entire semester abroad.
"Recognizing our students will get a sense of what it's like to study abroad, we've been working for the last six months to expand partnerships with colleges and universities abroad," he said. "By formalizing exchange programs with more schools, we're making it easier for Hastings College students to  have a more in-depth international academic experience."
In addition to making it easier for Hastings students to study abroad, exchange agreements allows students from these international schools to come to Hastings. Part of Hunter's role is to facilitate these opportunities for international students and help them adjust to life in the United States, Hastings College and south central Nebraska.
Current Hastings College exchange schools include:
ICD, an international business school in Paris;
University of Dundee in Scotland;
Pyatigorsk State University in Russia; and
University of Leicester in England.
"In addition to these two-way exchange programs, Hastings College has formed partnerships with the Ministry of Education in The Bahamas and College de Paris in France, making it easier for their students to come to Hastings," Hunter said. "Having more international students on campus broadens the experience for everyone, and further aims to enrich our students' college experience."
He said Hastings College is continuing to look for partnerships around the globe, as well as developing international programs to give students more opportunities to study away.
Hastings College is a private, four-year institution located in Hastings, Nebraska, that focuses on student academic and extracurricular achievement. Hastings College has been named among "Great Schools, Great Prices" by U.S. News & World Report and a "Best in the Midwest" by The Princeton Review. For more, go to hastings.edu.