After spending the fall semester building teams and outfitting an esports arena, Hastings College Esports announced it is joining the National eSports Collegiate Conference (NECC). Hastings College Esports and the NECC agreed to partner for the Spring 2022 Split, with the regular season starting in early February. Hastings is the 163rd member throughout North America in the NECC.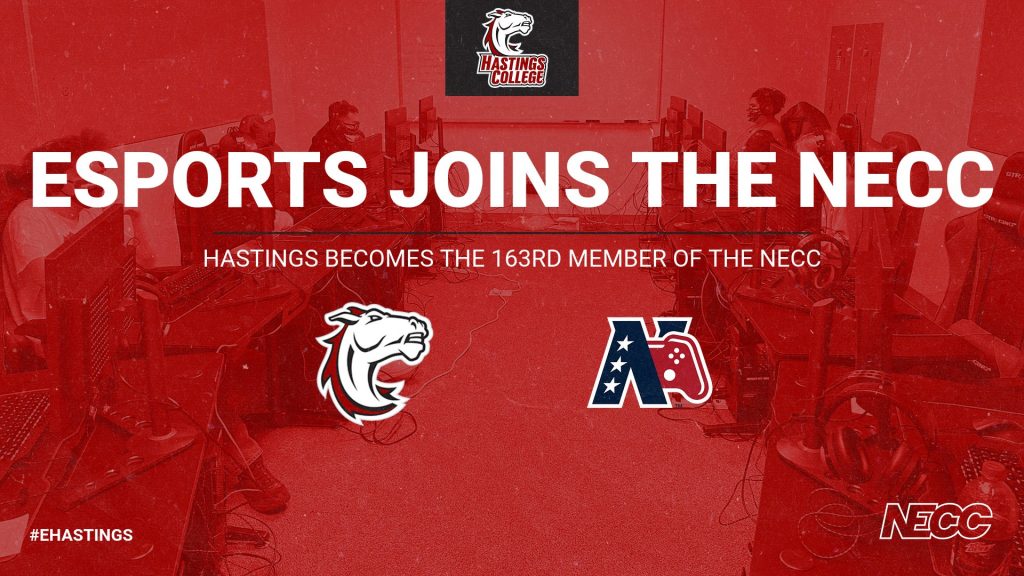 As a member of the NECC, each team for the Broncos will compete once a week for nine weeks, with the goal of competing in the NECC postseason tournaments in April.
The Broncos host four of the five NECC-sponsored games offered —Valorant, Rocket League, Tom Clancy's Rainbow Six Siege and Overwatch. Along with these four titles that are played on rotating weekdays, the Broncos will offer two weekend tournament titles in Hearthstone and Super Smash Ultimate. The Hastings College Esports program currently has 21 students involved and competing, split into teams across the different games.
"We're thrilled to welcome Hastings College to the NECC," NECC Commissioner Jacob VanRyn said. "From my conversations with coach Andy Chase about his program and the passion he has for the Hastings community and his players, it was obvious that he is the type of person we want to work with in the NECC. We look forward to welcoming their community and watching them compete beginning this spring."
Each NECC game will be competed on-campus at the Bronco Esports arena in the Gray Center. Opponents will be added to the schedule as the team learns which division it will compete in following activation weeks in January. Activation weeks are competitions across all conference members to ensure teams are placed in competitive divisions.
"I am excited for our program to compete in the NECC," said Hastings College Esports coach Andy Chase. "It allows us to be competitive immediately and gets us an opportunity to showcase what we have been working on during practices every night. I also appreciate how welcoming the NECC and Commissioner VanRyn has been to us as we went through this early building phase of our program."
Hastings College is a four-year residential college that focuses on student academic and extracurricular achievement. Hastings' student-centered initiatives include providing books, an iPad and a two-week study away experience at no additional cost. A block-style semester schedule allows professors and students to focus on fewer classes at a time and promotes hands-on experiences. Discover more at hastings.edu.