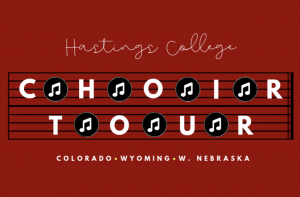 The critically acclaimed Hastings College Choir and its conductor Dr. Fritz Mountford are embarking on a regional tour through parts of Colorado, Wyoming and Nebraska this month. Long an audience favorite, the Hastings College Choir presents an eclectic program of America's favorite songs of faith and laughter and love.
"Of course we continue to explore more than five centuries of sacred masterworks," Mountford said. "But remaining true to the vision of our pioneer founders, we believe that singing is for everyone, so we sing anything we find to be beautiful, moving or just plain fun. Our sense of adventure constantly peeks out from behind the formal veneer of our highly disciplined student ensemble to engage and move listeners of all ages."
The group's first performance is Saturday, October 19 at 3:00 p.m. as part of the Hastings College Admissions Face To Face event at the Embassy Suites Denver Tech Center (10250 E. Costilla Ave., Centennial, Colorado).
The choir will perform again at the Embassy Suites at 5:00 p.m. as part of the Hastings College Alumni After Hours.
Both events are free and open to the public.
On Sunday, October 20, the choir will perform at 1:30 p.m. at Montview Manor (1663 Steele St. #101, Denver, Colorado), a retirement community sponsored by the Montview Boulevard Presbyterian Church.
The choir will move on for a 7:00 p.m. performance at the First Presbyterian Church of Cheyenne (220 W. 22nd St., Cheyenne, Wyoming). This performance is free and open to the public.
On Monday, October 21, the group will perform in the morning in Greeley, Colorado — at Frontier Academy, a tuition-free charter school, and University Schools, a K-12 public charter school.
In the afternoon, the choir will participate in a choral exchange with the Western Nebraska Community College Collegiate Chorale in Scottsbluff, Nebraska.
A free public concert will be held at the First Presbyterian Church of Scottsbluff (101 E 20th St., Scottsbluff, Nebraska) at 7:00 p.m.
The final day of the tour is Tuesday, October 22, when the choir will perform at Scottsbluff High School and then work with students and perform at Alliance High School.
The final performance, which is free and open to the public, will be at Alliance High School (1450 Box Butte Ave., Alliance, Nebraska) at 6:30 p.m.
Background on the Hastings College Choir
Founded in 1882 at Hastings College in Hastings, Nebraska, the Hastings College Choir is widely recognized as a creative force behind the establishment of collegiate choral singing in America, and for setting a high standard for choral artistry, vocal excellence and eclectic programming. Once a member of the choir himself, Mountford has led the ensemble since returning to Hastings College in 2001 from a career as a performer, conductor and internationally-recognized showman and educator.
On social media, more than one million viewers worldwide have experienced and shared postings of the choir's performances of standard and innovative repertoire from a wide variety of historical periods, languages, secular sources and faith traditions.
In addition to public concerts and worship services, Mountford and the choir make it a point to appear in support of local school music programs along the way, presenting "mini-concerts" and workshop demonstrations for local students and teachers.
Imagine the vast archive of choral compositions and arrangements The Hastings College Choir has collected in its 137 years of music-making.
Mountford tailors each performance to the expectations and experience of the audience and to the acoustics of the venue. Proposed highlights of the eclectic 2019 tour program currently in preparation include:
Selections from its repertoire of "World Music" — Everything from a French children's tongue-twister, Ton thé, to a sensual contemporary Argentine tango, Noche de Lluvia from the collection "Canciones por las Americas."
A work by contemporary American composer John Biggs, Auction Cries, is set to a notice in the Emporia (Kansas) Gazette. Another novelty, Sophomore Philosophy, hearkens back to the choir's iconic tours by train and over still-unpaved midwestern roads to share the daring innovation of a mixed-gender chorus singing popular songs of the day.
Traditional "college choir" repertoire is set to include works by Mozart, Brahms and Viadana, and the choir's ever-popular signature arrangements of favorite hymns.
Nebraska's premier private college, Hastings College is a four-year institution located in Hastings, Nebraska, that focuses on student academic and extracurricular achievement. Hastings College has been named among "Great Schools, Great Prices" by U.S. News & World Report and a "Best in the Midwest" by The Princeton Review. For more, go to hastings.edu.