International Education Week is being celebrated on Hastings College's campus this week to acknowledge the benefits of international education and exchange worldwide. Multiple events are designed to encourage and inspire students to travel internationally, share global connections with students and connect the community of Hastings to our global world.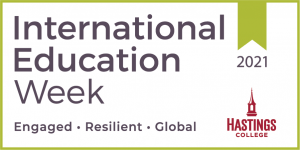 International Education Week is a joint initiative of the U.S. Department of State and the U.S. Department of Education and encourages places of learning across the United States and the world to actively promote and encourage participation in global education.
"After nearly a year of virtual events and classes, celebrating International Education Week together and most importantly in person with our campus community and the community of Hastings is of vital importance. We are more connected in our commonalities that we might expect," said Grant Hunter, director of international programs and a 2014 Hastings College graduate. "Our students' stories and academic learning about our world fits perfectly into the mission of Hastings College and the responsibility we have being a 21st century higher education institution preparing our students for the global world and workforce. Our continued commitment to access the world and traveling as part of a student's third year here is paramount to fulfilling that mission."
The College is also using the week to celebrate the international student population at Hastings College and in the state of Nebraska.
"More than 50 international students on campus are here as informal, and sometimes more formal than expected, cultural ambassadors from more than 20 countries to share their countries' rich histories and culture to all our students, faculty and staff," Hunter said. "Continuing to welcome the world to our campus is a tradition dating back to the founding of our college in 1882 and I'm excited and grateful that we can celebrate these outstanding young people this week."
Events on campus
The Hastings College Office of International Programs is sponsoring and partnering with several campus and community organizations to promote international programs and diversity on campus.
The week began with the very successful Hastings Multicultural Association's Cultural Festival on Sunday, November 14, in Kiewit Gymnasium.
Events for students on Tuesday, November 16, include an informational table about Hastings College's study abroad programs, as well as a screening and classroom discussion of the transformational impacts that travel can bring by showing "The Secret Life of Walter Mitty."
Wednesday, November 17 is an annual international tea being held in the Barrett Alumni Center where Hastings College Crimson Connection members and the student body are welcome to celebrate our global connections. Crimson members and students can RSVP with Hunter via email at ghunter@hastings.edu. The tea runs from 4:00 to 5:30 p.m.
The week's events conclude on Thursday, November 18, with two events in McCormick Hall.
First is a conversation for students with Rachel Schmalz, a 2021 graduate, and students in her class in Comrat, Moldova, where she is serving as a US Student Program Fulbright English Assistant. That will be followed by a lecture that is open to the public in the Pushkin Center for Russian Language and Culture by Dr. Robert Babcock titled "Revolt of the Cossacks: Stenka Razin, 1670-1671." Babcock's lecture begins at 7:00 p.m.
Hastings College is a four-year residential college that focuses on student academic and extracurricular achievement. Hastings' student-centered initiatives include providing books, an iPad and a two-week study away experience at no additional cost. A block-style semester schedule allows professors and students to focus on fewer classes at a time and promotes hands-on experiences. Discover more at hastings.edu.