In honor of Arbor Day, Hastings College students will plant four new trees on campus and add saplings to the Hastings College tree nursery on Friday, April 27. The planting ceremony and a brief program begins at noon on the south side of the Kiewit Building (715 E. 7th Street). Following the program, the group will walk to the Hastings College tree nursery on the north side of the Physical Fitness Facility.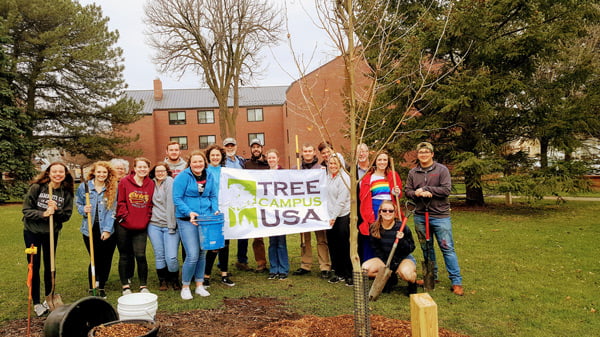 "This year's Arbor Day events not only show our immediate efforts to plant trees and improve our campus, but also a long-term commitment to promoting a greener, cleaner campus. The small, bare root trees we are starting in the nursery will mature in two to three years, after which they can be planted in other areas on campus," said Dr. Will Locke, a 1961 Hastings College graduate, professor emeritus of Teacher Education and volunteer with the Hastings College Arboretum. "All these efforts are made possible by the students and groundskeeping staff who willingingly give their time to serve campus and keep our greenery healthy."
This celebration is planned in conjunction with the College's recognition as a 2017 Tree Campus USA by the Arbor Day Foundation. The award honors the College for its commitment to effective urban forest management. Currently there are 344 campuses across the United States with this recognition.
"Students are eager to volunteer in their communities and become better stewards of the environment," said Matt Harris, chief executive of the Arbor Day Foundation. "Participating in Tree Campus USA sets a fine example for other colleges and universities, while helping to create a healthier planet for us all."
Tree Campus USA, an Arbor Day Foundation program, is celebrating its 10th anniversary this year. The Tree Campus USA program honors colleges and universities for effective campus forest management and for engaging staff and students in conservation goals.
Hastings College achieved the title by meeting Tree Campus USA's five standards, which include maintaining a tree advisory committee, a campus tree-care plan, dedicated annual expenditures for its campus tree program, an Arbor Day observance and student service-learning project.
Campus activities — including this week's series of service learning events to celebrate Arbor Day — highlight the work of Hastings College students in meeting Tree Campus USA standards. Earlier this week, students assisted Locke in mulching the trees on campus, and the Wednesday Chapel service featured a brief tree planting ceremony on the west side of the College's Steinhart Plaza. The London Plane Tree planted in the Wednesday ceremony is the College's Earth Day tree for 2018.
The Arbor Day Foundation has helped campuses throughout the country plant thousands of trees, and Tree Campus USA colleges and universities invested more than $48 million in campus forest management last year. More information about the program is available at arborday.org/TreeCampusUSA.
Hastings College is a private, four-year institution located in Hastings, Nebraska, that focuses on student academic and extracurricular achievement. With more than 60 majors and 15 pre-professional programs, Hastings College has been named among "Great Schools, Great Prices" by U.S. News & World Report and a "Best in the Midwest" by The Princeton Review. For more, go to hastings.edu.