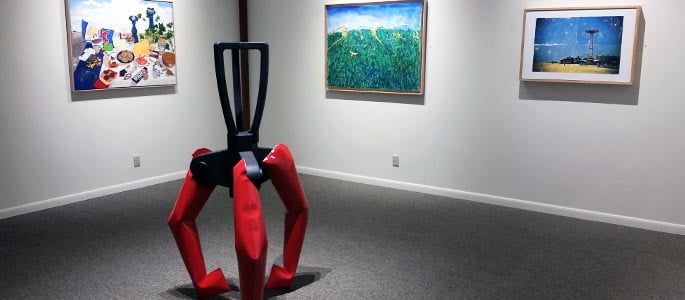 A selection from the Hastings College Permanent Collection of Art is on display at the College's Art Gallery (711 E. 7th St.) from now through the month of September.
Each school year, the gallery season begins with a selection from the permanent collection, which includes hundreds of objects, from African tribal art to prints by Andy Warhol. Most of the selection that is displayed this year includes work from current students, alumni, visiting artists and faculty members.
"Much of the collection is on display at all times in various buildings and outdoors on campus," said Turner McGehee, Professor of Art. "The rest of the collection remains in storage where it is put into rotation for public display. Each year, we begin our gallery season with a selection from these items."
McGehee curated the exhibit, with assistance from senior Luke Ervin. All displays at the Hastings College Art Gallery are free and open to the public.
The gallery is open Monday through Saturday, 10 a.m. to 4 p.m. and on Sunday, 2 p.m. to 4 p.m.