The Hastings College Art Gallery is hosting the second of three Art Senior Thesis exhibitions through April 22. Lecture presentations for this round are Sunday, April 10 at 2:00 p.m. in Wilson Auditorium (714 E. 9th St.), followed immediately by a reception in the Hastings College Art Gallery (711 E. 7th St.).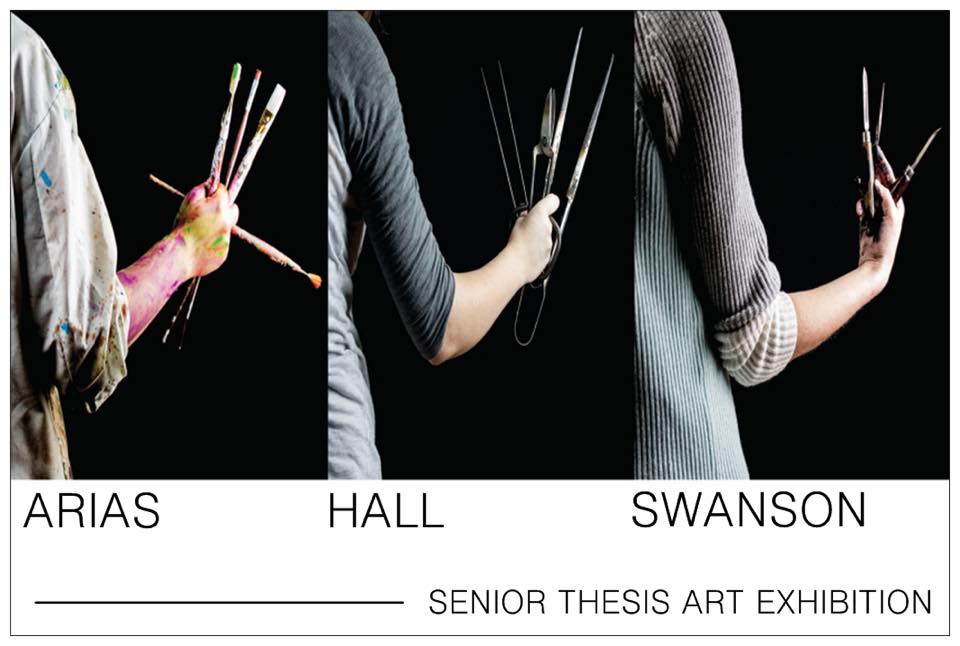 This second exhibition features art in three mediums, paintings by Katherine Arias of Lexington, Nebraska; blown glass by Carolina Hall of Graniteville, South Carolina; and prints by Ryann Swanson of Grand Island, Nebraska.
Arias, whose exhibit is titled "Beneath the Veil," said observing humanity helps her find her focus. "In people I find an infinite amount of potential for investigation. I am fascinated by the tensions and imperfections I find in humans," she said. "In this current body of work I am looking internally to tell the story of situations within my family. Each painting illustrates two figures beneath what we show the world."
Hall's "From Inside the Cave," explores her fascination for the human mind, what people think, how they feel and what kind of ideas can occur throughout their lives. "I wanted to depict human thought through the idea of Plato's Allegory of a Cave," she said. "These figures that I made cast shadows of different color throughout the entire room. These thoughts are influenced by the world around them – media, technology and people."
In Swanson's exhibit, "Fantasy Versus Reality," she explores the fantasy of illustration and the reality of the self-portrait surrounding five classic fairy tales. "My illustrations bring in new ideas to the illustrations of fairy tales," she said. "I brought into them modern fashions and also intermediate scenes, which I felt could seamlessly fit into the stories I was illustrating."
The lecture presentations and reception are free and open to the public. Regular gallery hours are 8:30 a.m. to 4 p.m., Monday–Friday.
Note: The third installment of the Hastings College Art Senior Theses will be April 25-May 14. Additional details will follow at a later date.
Hastings College is a private, four-year institution located in Hastings, Nebraska, that focuses on student academic and extracurricular achievement. With 64 majors and 15 pre-professional programs, Hastings College has been named among "Great Schools, Great Prices" by U.S. News & World Report, a "Best in the Midwest" by The Princeton Review and a "Best Bang for the Buck" school by Washington Monthly. For more, go to hastings.edu.