Hastings College has announced the Dean's List for its Spring 2021 semester. For the semester, 393 students from 24 states and eight countries were named to the Dean's List.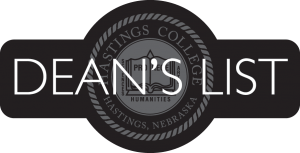 To be eligible for the Dean's List, students must achieve a grade point average of 3.7 to 4.0 scale and be registered for full-time coursework.
Students are listed alphabetically by state and hometown. International students are located at the end of the list.
Students with an asterisk by their name earned a 4.0 grade point average for the semester.
United States
Alabama
Hoover
Margaret Rogers
Alaska
Wasilla
Wyatt Anderson
Arizona
Chandler
Sean Bromley
Chino Valley
Carley Davis*
Gilbert
Amy Fuller*
California
Castro Valley
Gabriella Vinciguerra
El Cajon
Elvin Hormiz*
Salinas
Francisco Arevalo*
Richard Romero Hernandez*
Robert Ramiro Hernandez*
Stockton
Lauren Gahn
Whittier
Anthony Espinoza*
Yorba Linda
Kavika Aholelei
Olivia Nelson*
Colorado
Arvada
Alexandrya Jacobs
Aurora
Jayna Franson*
Brady Kaufmann
Bailey Schwartzkopf*
Berthoud
Isabel Gittings
Breckenridge
Jake Levinson
Burlington
Myranda Soncksen*
Castle Rock
Logan O'Neill
Dekota Schubert
Centennial
Mariama Sesay*
Central City
Rachel Schmalz*
Colorado Springs
Cheyenne Clements
Emma Downing*
Elizabeth Lee
Cameron Sedillos*
Darci Wax
Conifer
Luke Liffengren*
Denver
Samantha Burke*
Lindsey Pratt*
Mireya Rivas
Eaton
Justine Flynn*
Elbert
Jordyn Duffy*
Elizabeth
Ryder Ghidotti*
Daisy Strobel
Fort Collins
Caitlin Krallis*
Kayla LaMar*
Anna Moore*
Griffin Roberts
Christopher Sedmak*
Fort Lupton
Keri Housholder*
Fort Morgan
Kacie Hasting*
Gill
Rhys Maxey
Golden
Matheson Baird*
Rachel Ney*
Grand Junction
Aislynn Davis
Haxtun
Dawson Knode
Highlands Ranch
Elizabeth Baade
Michaela Bailey*
Kenedie Dailey*
Anne Gerringer*
Claire Hubbard
Lakewood
Kaitlyn Chavira*
Limon
Savannah Frasier
Littleton
Lauryn Metz*
Emily Nevins
Karliena Norton*
Kaley Summers*
Aiden Wong
Longmont
Bailey Beavers*
Holly Bosley*
Kailee Lunzer
Loveland
Devon Evert*
Elana Gerhard*
Charles Olson*
Parker
Jacqueline Carreras*
Jared Case*
Zachary Garcia
Kody Johnson
Tyler Seeley*
Peyton
Mikhala Miller
Strasburg
Emerald Green*
Courtney Manahan*
Cody Wilson*
Stratton
Andrea Hornung
Thornton
Shelby Banks*
Kourtney Stewart*
Westminster
Brianna King*
Andrew Martel*
Elias Uhrich
Windsor
Madalyn Younger
Florida
Coral Springs
Alexander Cadelus
Lake Mary
Kenneth High*
Georgia
Hinesville
Jeremiah De Irish*
Idaho
Castleford
Courtney Poulson
Illinois
Dixon
Melissa Bates
Grayslake
Taylor Lipinski
Mascoutah
Emmeline Herman*
Iowa
Treynor
Clarissa Weitzel*
Kansas
Cottonwood Falls
Landry Hinkson*
Lebanon
Emma Enochs*
Olathe
Lucy Skoch*
Overland Park
Jackson Million
Perry
Samantha Worthington*
Pratt
David Loomis*
Shawnee
Allison Banks*
Smith Center
Gracen Hutchinson*
Minnesota
Chaska
Jeremiah Cox*
Missouri
Independence
Joshua Merithew*
Montana
Shelby
Allisa Buck*
North Dakota
Jamestown
Victoria Levin*
Nebraska
Alda
Andrew Streck*
Arik Streck*
Alexandria
Brianna Barton*
Alliance
Sariah Grant
Sydnie Waldron
Amherst
Trevor Adelung*
Aurora
Bailey Collingham*
Avoca
Sydney Anderson
Axtell
Zoe Dahlgren*
Ayr
Emily Boyd
Beatrice
Brady Achtemeier*
Jayden Baete
Carley Leners*
Veronica Pinkerton
Beaver City
Savanah Ellis*
Bellevue
Maggie Price*
Bennington
Caitlin Birk*
Karson Gansebom
McKenzie Heater
Blair
Payton Daggett*
Eva Dunker*
Blue Hill
Emily Meyer*
Brainard
Maria Pytlik*
Bridgeport
Cassidy Coalson*
Broken Bow
Logan McCullough*
Morgan McMeen*
Ryan Nielsen*
Burwell
Hallee Mann*
Jase Williams*
Cairo
Emily Krolikowski*
Central City
Koby Brandenburg
Dyllan Lee
Tucker Schneiderheinz*
Columbus
Joseph Campbell
Sofia Gomez-Garcia
Logan Schilling
Cozad
Samantha Myers
Doniphan
Madyson Ludwig*
Keaton Ludwig
Jason Remm*
Kaitlyn Roach
Jacob Stulken
Elkhorn
Mackenzie Loseke*
Tyler Renner*
Elm Creek
Allison Bauer*
Elizabeth Lange*
Enders
Josie Peterson*
Eustis
Samantha Jack*
Fairbury
MaKenzie Berns*
Madison Black*
Evelyn Deras*
Fairmont
Madison Galusha*
Farwell
Bailey Lukasiewicz*
Firth
Dylan Hafer
Jonah Reed*
Fort Calhoun
Avery McKennan
Stephanie Mlynarik
Fremont
Destani Knapp*
Sage Reiger
Fullerton
Halle Plumbtree*
Genoa
Mackenzie Whitlow
Giltner
Alexa Preissler*
Glenvil
Rachel Hinrichs*
Gothenburg
Patrick Hudson
Hanna Schaben*
Grand Island
Christy Acevedo*
Lexus Ascencion*
Jason Bachle
Samantha Hansen*
Sydney Holmes
Jora Jackson-Brown*
Wyatt Kohles*
Andrew Korte*
Sara Kruse*
Brennin Leach
Katie Martikainen*
Abbigeal Nielsen*
Taeler Nielsen
Benjamin Oman*
Ethan Ruff*
Kaitlynn Schreiner
Gabrielle Stump*
Savannah Thornton*
Megan Vaughn*
Effeana Widdifield*
Gretna
Mason Hjermstad*
Guide Rock
Julia Shipman*
Hartington
Cole Schmidt
Harvard
Celina Chrisman*
Hastings
Emma Albers*
Taelyn Alvarez*
Caroline Anderson*
Makenna Asher*
Bailly Ballard*
Michael Beahm*
Christiana Cole*
Benedict Clark
Austin Craig*
Byron Cruz*
Abby Engel
Erin Foster*
Collin Fowler*
Naomy Gomez*
Austin Heikkinen*
Blake Hessler
Benjamin Howie
Jordan Ismaiel
Samuel Johnson*
Madison Junker*
Kelsie Kohl
Abigail Kryzsko*
Shelby Lagueux
Trent Lam*
Brianna LeBar*
Emma Markle
Marisa McCormick
Odeth Mendez
Briana Meyer*
Violet Moreira
Violet Moreira
Avery Muff*
Hallie Murray*
Aviana Papazian*
Madelyn Redding*
Emma Redinger*
Julia Reimer*
Alexandra Richards*
Robert Ritz*
Roma Rodriguez
Katie Ruth*
Gabrielle Sadd*
Vincent Schmidt
Jaden Sherfick
Gregg Smith*
Emily Struss
Hannah Theisen*
Rachel Thomson*
Sarah Truong*
Ashton Valentine*
Danny Vuong*
Thane Waite
Audrey Weeks
Nicole Williamson*
Holdrege
Karli Hale*
Tatiana Young*
Juniata
Kaden Evans
McKenna Lamoree*
Hailey Moore
Alyssa Ziemba
Kearney
Ian Bauer*
Daisy Maessner*
Cole Staab*
Kenesaw
Philip Quackenbush
La Vista
Sarah Griffel
Lawrence
Samantha Janda*
Lincoln
Elijah Baker*
Camden Brichacek*
Ireland Currey*
Natalia Dick*
Megan Dlouhy*
Benjamin Friend*
Colin Green*
Catherine Heller*
Mattison Hogrefe
Anastasia Krueger*
Ethan Molifua*
Caleb Osmond*
Olivia Perez*
Cody Selvage
Odyssey Wentz
McCool Junction
Madison Gerken*
Mead
Josh Quinn*
Minden
Justin Villars*
Murdock
Tess Arent*
Nelson
Taylor Harrington*
North Bend
Mackenzie Daniels*
North Loup
Hayden Grint*
North Platte
Taylor Empfield*
Miranda Gerdes*
Jayda Paul*
Omaha
Jennifer Alonso*
Elise Baumann*
Kyleigh Boever
Caleb Bohnenkamp*
Abigail Dallegge
Elle Danley*
Leah Dugan
Paul Erickson*
Evelyn Holmstedt
Madison Jagels*
Kylie Ketelsen*
Ivan Linenberger*
William McGuire*
Elizabeth Mills*
Amanda Peterson
Kelsey Peterson
Jocelyn Polacek*
Hunter Reeves*
Kaitlyn Schmit*
Dave Shields
Trystan Soby*
Kierra Spurgeon
Jaisee Stinson*
Kate Thier*
Austin Uhlig*
Matthew Urbanski*
Anna Wilwerding
Antonio Zach*
Ord
Kailey Bruha
Katie Fischer*
Madeline Griffith
Mitchell Knapp
Nia McClure
Alexandra Smith*
Jesse Ulrich*
Orleans
Brooke Jorgenson
Overton
Jayden Eby
Braden Kizer
Lillian Nelms*
Palmer
Claira Thede*
Papillion
Allison Knowles*
Emily McDowell
Teeya Olson*
Paul Plowcha
Phillips
Ashley Caudill*
Pierce
Ashley Pedersen*
Plattsmouth
Leah Church
Pleasanton
Tyler Pawloski*
Ravenna
Shelby Schroeder*
Red Cloud
Timothy Ellis*
Kiara Uhrich*
Saint Libory
Cora Menke*
Saint Paul
Joelle Derner
Brooke Poppert*
Scottsbluff
Tiersa Darley*
Kennedy Kriewald
Seward
Morgan Souchek*
Kelsie Zadina*
South Sioux City
Socorro Topete
Springfield
Evan Kingston
Stanton
Bailey Patterson*
Sutherland
Brooklyn Elwood
Sutton
Kinser Rafert*
Brett Simonsen*
Taylor
Raif Ruppert
Thedford
Chase Rath
Marlee Taylor*
Tobias
Breanna Boyce
Valentine
Robert Goodwin
Turner Tinant
Valley
Miley Prine*
Waco
Justin Heine
Wahoo
Taylor Stuhr
Waterloo
Kelli Brichacek*
Samuel Plugge
Waverly
Jenna Davison*
Wilber
Dustin Jelinek*
Wolbach
Colby Grossart*
Wood River
MaKenzie Peters*
Wymore
Kyra Maguire*
York
Brianna Cobb*
Hunter Royal
Grace Sinsel*
New Mexico
Los Alamos
Justin Martin
Pennsylvania
Coraopolis
Lauren Newlin*
South Dakota
Brookings
Courtney Hanson*
Rapid City
Kassandra Ralston*
Sioux Falls
Katelyn Rush*
Tennessee
Franklin
Natalie Watson*
Texas
Austin
Rayvonne Wright*
Lubbock
Carli Russell*
Pleasanton
John Zamora
Virginia
Lynchburg
Melbourne Palmer
Wisconsin
Nelson
Paige Gajewski*
Wyoming
Casper
Garrett Clasen*
Cheyenne
William Wallace
Lusk
Baleigh Abbott*
Powell
Isaabella Munoz*
Rock Springs
Brendan Kachnowski*
International Students
The Bahamas
Nassau
Lyette Darville*
Jhaliyah Lewis
Kiante Stuart*
Colombia
Villamaria
Juan Manuel Llano*
Germany
Nordrhein-Westfalen
Nils Schafer*
Wurzburg
Paul Obrusnik*
Great Britain
Darlington
Marc Colman*
Norway
Krokelvdalen
Mats Solem Bakkeland
Switzerland
Thun
Kai Knuchel
Venezuela
Maracay
Carlos Morales Carrera*