Hastings College graduate and former head cheer and dance coach Mikaelah Molifua's uplifting spirit will live well beyond her 24 years — through those she knew and loved as well as future Broncos who'll benefit from the Mikaelah Daneen Molifua Memorial Scholarship established by the Hastings College Foundation.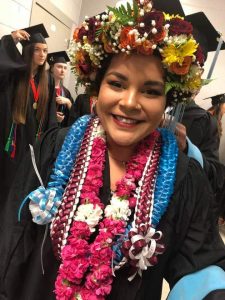 Those who knew Molifua know she was a positive force who had an exceptional spirit and enthusiasm for all things Bronco. The Foundation is asking for like-minded individuals to support the scholarship as a way to honor Molifua and support future students with a similar spirit. For more information on Molifua or to contribute to the scholarship fund, go to hastings.edu/mik.
Several Hastings College Bronco Cheer and Crimson Spirit Dance team alumni who knew Molifua worked with her family and the Hastings College Foundation to create the scholarship — and to honor her during halftime of the Homecoming football game on September 26.
"A great number of people were touched by the energy, enthusiasm and positivity she continually showcased," said Anna Printz, a 2018 Hastings College graduate who was a member of the Bronco Cheer team. "She showed us what it means to be Molifua Strong, and to be bold, to care, to learn and to live."
The Mikaelah Daneen Molifua Memorial Scholarship will benefit future student-athletes with financial need and who showcase an exceptional spirit and enthusiasm for Bronco athletics. Special consideration will be given to students who face health challenges.
Before coming to Hastings College, Molifua defeated Stage IV cancer and was ready to be an electric leader in all things Bronco. She received her undergraduate degree in English education in 2017 and competed for the Bronco cheer and softball teams, served as a resident assistant in Babcock Hall and led the Alpha Delta Alpha sorority.
Molifua then pursued a Masters of Arts in Teaching degree with a physical education endorsement, graduating in 2019. While completing her masters, she coached the Bronco Cheer and Crimson Spirit Dance teams. During this time is when cancer returned, and Moliufa faced another battle. She remained a positive force on others throughout her treatments. She died on June 26, 2020.