The 2023 Hastings College Homecoming Court. (front from left) Riley Lanning, Jermaine Francis Jr., Claire Fahsholtz, Breanna Brennfoerder and Tiena Chu; (back from left) Karl Ludwig, Jaylee Bradley, Myah Brown, Henry Jones and Brady Creech. Not pictured: Riley Clavel and Alyssa Baker.
Homecoming week is underway at Hastings College with multiple student activities happening on campus, from a movie on the lawn to a bonfire to the traditional Homecoming dinner and dance.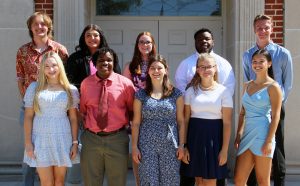 Events for community members begin Thursday, September 28 with a Business After Hours with the Hastings Chamber of Commerce in the Barrett Alumni Center (1001 N. 6th Avenue) from 5:00 to 7:00 p.m. Steeple Brewing Co.'s Hastings College-themed brew, Circuit Rider '82, will be available.
On Friday, September 29, all alumni and the community are invited to Steeple Brewing (717 W. 1st St.) for Broncos Around Town and the official tapping of Circuit Rider '82. The event goes from 8:00 to 10:00 p.m.
Saturday, September 30 kicks off at 10:30 a.m. with the Melody Round-up Parade in downtown Hastings. In addition to the Marching Bronco Band, other bands participating in the parade include Adams Central High School, Axtell Community Schools, Blue Hill High School, Chambers High School, Crete High School, Fairbury High School, Fairbury Middle School, Giltner Public Schools, Hampton Jr./Sr. High School, Hastings St. Cecilia High School and Milford High School.
Following the parade is the Bronco Tailgate in Jackson Dinsdale Art Center/Gray Center parking lot at 11:30 a.m. The tailgate features a BBQ lunch catered by Hastings College Dining Services, and a variety of yard games and activities. Guests are encouraged to park in the arena/stadium lot.
Hastings College Broncos football kicks off against Dordt University at 1:00 p.m., followed by men's and women's soccer games against Morningside University at 5:30 p.m. and 8:00 p.m., respectively. Other events over the weekend include fine arts and athletic hall of fame inductions, an all class reunion and Hastings College Sunday at 10:30 a.m. at First Presbyterian Church.
The full homecoming schedule can be found at hastings.edu/homecoming.
Homecoming Court
Twelve members of the junior class were chosen by the student body for the Homecoming Court. Homecoming Royalty, the top two vote recipients among members of the Court, will be announced during the student Homecoming dinner on Friday evening.
Members of the Homecoming Court include:
Alyssa Baker, a biochemistry major from Bentonville, Arkansas, is the vice president of the Student Association, and a member of the women's basketball team, Tri-Beta and the Association of Student Athletes. She is a Dean's List student who has worked with Food4Thought, Catholic Services and was named Outstanding Young Church Woman by Methodist Women United.
Jaylee Bradley of Clovis, New Mexico, is a sociology major who is a member of shotgun sports and is the president of the Association of Student Athletes.
Breanna Brennfoerder is from Edgar, Nebraska, and is studying music education and art education. The Dean's List student is involved in Sigma Alpha Iota, where she won the Scholastic Award and is the editor; Choral Union; Vocal Jazz Ensemble; the Hastings College Choir; Cru; the media team; Artists' Guild; and is vice president of the National Association for Music Education. She earned the Rafferty-Rownd Student Travel Fund Scholarship for an internship in London last semester. She is an RA in Babcock Hall and a church pianist.
Myah Brown, a biology major from Grand Island, Nebraska, is a Scott Scholar, member of the athletic management program, co-president of the Student Health Advisory Committee and president of the Diabetes Link. She is in the honors program, did research in science communication as an Irish Fellow and completed neuroscience research at the University of Nebraska Medical Center this past summer.
Riley Clavel, a business administration major from Roy, New Mexico, is a member of the women's basketball team, where she earned All Conference Honorable Mention; Alpha Chi Omega; Chi Omega Psi; Bronco Catholic; and Fellowship of Christian Athletes. She is also a Scott Scholar.
Tiena Chu of Cheyenne, Wyoming, is a psychology major who is co-president of Psi Chi, a Dean's List student and a student coach for track and field.
Brady Creech is a secondary education major from Hastings, Nebraska. He is a member of the track and field team where he is a conference champion, earned all conference honors and is an All-American in high jump. He is also a member of the Association of Student Athletes.
Claire Fahsholtz, a secondary business education and business administration major of Greeley, Colorado, is a Scott Scholar, and student leader of Cru and member Fellowship of Christian Athletes. She also volunteers for Youth for Christ.
Jermaine Francis Jr., from Nassau, The Bahamas, is a health technology major. He is a member of the media team, the Student Association entertainment committee, theatre and the cheer team.
Henry Jones is a criminology major from Fort Pierce, Florida. He is a member of the men's wrestling team.
Riley Lanning, a psychology and history and philosophy major from Glendale, Arizona, is a member of the women's golf team, honors program, Psi Chi and Alpha Theta. She is the head RA of Taylor Hall, a Studio 200 tutor for statistics and psychology and a research assistant for the psychology department. This Dean's List student has given multiple research presentations at conferences, been named Alpha Chi Outstanding First and Second Year Student in 2022 and 2023, earned Academic Athlete of the Year for women's golf and has volunteered as an intern for the Hastings Literacy Program teaching English as a second language. She has also volunteered as a preschool teacher and teaches dance classes every week. She previously participated on the dance team.
Karl Ludwig is a music performance major from La Junta, Colorado. He is a member of Sinfonia, Hastings College Band, Hastings College Choir, Chorus of the Plains, Chancel choir, Woodwind Studio and a saxophone quartet. He was honored as a member of the Nebraska Intercollegiate Band for tenor saxophone and has a leadership role in the Marching Bronco Band.
Hastings College is a four-year residential college that focuses on student academic and extracurricular achievement. Discover more at hastings.edu.