Hastings College has announced the Dean's List for its fall 2021 semester. For the semester, 386 students from 20 states and eight countries were named to the Dean's List.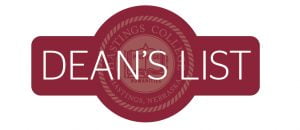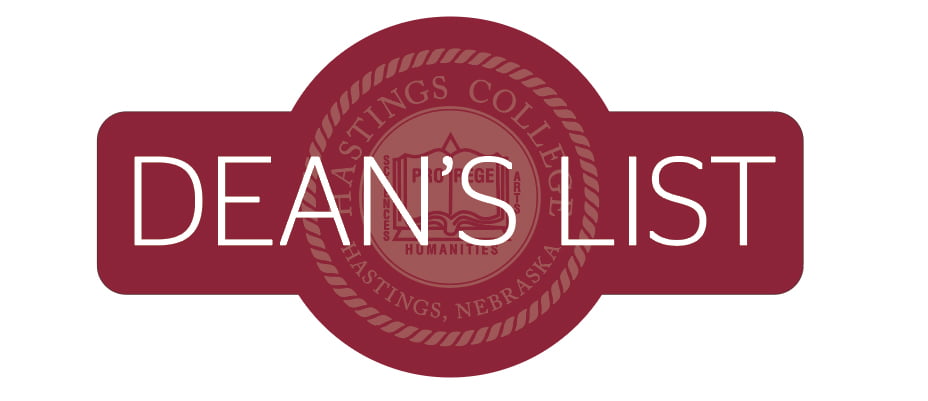 To be eligible for the Dean's List, students must achieve a grade point average of 3.7 to 4.0 scale and be registered for full-time coursework.
Students are listed alphabetically by state and hometown. International students are located at the end of the list.
Students with an asterisk by their name earned a 4.0 grade point average for the semester.
Arizona
Chandler
Sean Bromley*
Chino Valley
Carley Davis*
Douglas
Isabel Tanabe*
Gilbert
Kimberly Pollak
Glendale
Riley Lanning*
Marana
Joshua Hendrickson
Tucson
Duncan Fouts*
Arkansas
Bentonville
Alyssa Baker
California
Castro Valley
Gabriella Vinciguerra*
Santa Clarita
Trenton Munoz
Whittier
Anthony Espinoza*
Yorba Linda
Kavika Aholelei
Colorado
Alamosa
Cole Christensen
Arvada
Theresa Price*
MaraMay Stone*
Aurora
Paola Ramirez Castanon*
Bailey Schwartzkopf
Julyah Wilson*
Berthoud
Isabel Gittings*
Breckenridge
Jake Levinson
Broomfield
Adam Saville
Castle Rock
Lauren Schneider*
Centennial
Noah Sullivan
Colorado Springs
Emma Downing
Alianna Higgins
John Sample*
Darci Wax*
Denver
Lindsey Pratt*
Bemnet Tesfa
Eaton
Justine Flynn*
Elbert
Jordyn Duffy*
Englewood
Maeve Miller
Fort Collins
Kaelyn Pontes*
Christopher Sedmak
Fort Lupton
Keri Housholder*
Golden
Matheson Baird*
Maximilian Crosbie
Thomas Jeffries*
Rachel Ney*
Greeley
Claire Fahsholtz*
Caitlin Harr*
Hattie Sheets*
Haxtun
Dawson Knode
Highlands Ranch
Elizabeth Baade
Vincent Byrne*
Kenedie Dailey*
Claire Hubbard*
La Junta
Karl Ludwig*
La Salle
Tyler Kissler
Lakewood
Kaitlyn Chavira
Cullen Martinez
Rennick Turner*
Limon
Savannah Frasier
Littleton
Braiden Fritz
Brock Hoos*
Lauryn Metz*
Emily Nevins*
Dylan Otto*
Alexandrea Paxton
Kaley Summers*
Aiden Wong*
Longmont
Holly Bosley
Kailee Lunzer*
Ashley Ward*
Loveland
Elana Gerhard*
Cecilia Velarde*
Morrison
Skyla Martinez
Palisade
Addelaide Steele*
Parker
Tyler Seeley*
Stefphon Sherman
Peyton
Mikhala Miller*
Sedgwick
Darrien Miller*
Strasburg
Courtney Manahan
Cody Wilson*
Thornton
Savana Kascak*
Kourtney Stewart*
Westcliffe
Karsen Sears
Westminster
Dominique deSeriere
Andrew Martel*
Elias Uhrich
Wray
Virginia Deam-Nein*
Florida
Lake Mary
Kenneth High*
Georgia
Hinesville
Jeremiah De Irish*
Idaho
Wilder
Kaydince Turner
Iowa
Council Bluffs
Taren Newman*
Grimes
Jillian Rants*
Indianola
Macie Mays
Missouri Valley
Alec Fichter*
Kansas
Arlington
Elizabeth Miller*
Cottonwood Falls
Landry Hinkson*
Enterprise
Shelby Banks*
Lawrence
Grace Branson*
Liberal
Millyzient McClure*
Olathe
Alexis Linnebach*
Perry
Samantha Worthington*
Richfield
Carrie Runkle*
Shawnee
Allison Banks*
Smith Center
Gracen Hutchinson*
Wamego
Dawson Zenger
Michigan
Paw Paw
Mariah Bradley
Minnesota
Eagan
Chloe Carson
Hermantown
Brendan Dally
Missouri
Kansas City
DaeRon Jones
Warrensburg
Elijah Nappe*
Nebraska
Alexandria
Brianna Barton*
Alliance
Sariah Grant*
Diana Kollars
Amherst
Trevor Adelung*
Aurora
Ryan Hunter
Carter Pursley
Julia Yllescas
Avoca
Sydney Anderson
Ayr
Emily Boyd
Beatrice
Jayden Baete*
Carley Leners*
Ava Lovitt*
Veronica Pinkerton*
Beaver City
Savanah Ellis*
Bellevue
Airan Lopez*
Emma Maline*
Maggie Price*
Luke Webster
Bennington
Cullen Buscher*
Karson Gansebom
Blair
Eva Dunker*
Boys Town
Hannah Stromer*
Brainard
Maria Pytlik
Bridgeport
Cassidy Coalson*
Broken Bow
Logan McCullough*
Morgan McMeen*
Burwell
Hallee Mann*
Jase Williams
Cairo
Emily Krolikowski*
Cambridge
Tyler Borland
Central City
Grant Blodgett*
Koby Brandenburg*
Charles McGinnis*
Tucker Schneiderheinz
Clay Center
Marisa McCormick*
Columbus
Joseph Campbell
Winton Gassmann*
Hunter Long
Logan Schilling
Cozad
Gillian Torres
Crete
Victoria Vondra*
Doniphan
Kyle Frederick
Hope Kohmetscher*
Keaton Ludwig
Jason Remm*
Kaitlyn Roach
Edgar
Breanna Brennfoerder
Elkhorn
Dominic Hooker
Brody Ortmeier
Elm Creek
Allison Bauer
Whitney Bauer
Elizabeth Lange*
Fairbury
MaKenzie Berns
Fairfield
Jenna Tiemeyer
Hannah Wenske*
Fairmont
Madison Galusha*
Firth
Keegan Goracke-Johnson
Jonah Reed
Fort Calhoun
Avery McKennan*
Garland
Piper Beatty*
Geneva
Claire Kimbrough*
Jacquelyn Schelkopf
Genoa
Mackenzie Whitlow
Gibbon
Alissa Bailey*
Brie Bailey
Giltner
Alexa Preissler*
Glenvil
Rachel Hinrichs*
Gothenburg
Helena Jorgenson*
Grand Island
Ana Acevedo*
Jason Bachle*
Myah Brown*
Rylie Felton
Nicole Halsey*
Jackson Hansen
Morgan Hillman*
Wyatt Kohles
Sara Kruse*
Brennin Leach*
Katie Martikainen*
Abbigeal Nielsen
Kathryn Rohweder*
Savannah Thornton*
Effeana Widdifield*
Christian Wiegert
Gretna
Ansley Connolly*
Sally Stoltenberg*
Guide Rock
Tia Gonzales-Hunter*
Julia Shipman*
Hallam
Morgan Wohl
Hampton
Melinda Montoya
Hartington
Cole Schmidt
Harvard
Celina Chrisman
Hastings
Emma Albers*
Makenna Asher
Bryce Bliska*
Anna Cafferty*
Benedict Clark
Christiana Cole*
Jaden Cozart
Byron Cruz*
Taylor Esser*
Katharine Hamburger*
Blake Hessler
Christian Hessler
Benjamin Howie*
Samuel Johnson*
Madison Junker
Shelby Lagueux
Trent Lam*
Anthony Market
Emma Markle
Briana Meyer
Evan Morara*
Violet Moreira*
Avery Muff*
Hallie Murray*
Tyler Ohrman*
Aviana Papazian*
Madelyn Redding*
Julia Reimer*
Alexandra Richards
Robert Ritz*
Brandon Roose
Tate Schmidt*
Dacey Sealey*
Emily Struss*
Hannah Theisen*
Cale Uhrmacher*
Ashton Valentine
Shianne VanSkiver
Dustin Velasquez*
Danny Vuong*
Audrey Weeks
Henderson
Emily Nunnenkamp*
Hickman
Emma Severson*
Holdrege
Tatiana Young*
Hordville
McKensie Gress
Juniata
Hailey Moore
Hope Nienhueser*
Kearney
Jayden Eby*
Daisy Maessner*
Cole Staab*
Kenesaw
Philip Quackenbush
La Vista
Maxenstein Griffel*
Lawrence
Samantha Janda*
Lexington
Dylan Richman
Lincoln
Elijah Baker
Camden Brichacek*
Alyssa Broman
Anna Bryan
Ireland Currey*
Natalia Dick*
Catherine Heller
Mattison Hogrefe
Carolyn Hopkins*
Jenna Krenke*
Anastasia Krueger*
Olivia Kugler
Kasey Ohnoutka*
Olivia Perez*
Cruise Trumbley
Litchfield
Lindsi Loos*
Louisville
Cadance Stenger*
McCool Junction
Madison Gerken
Mead
Josh Quinn*
Mills
Caitlin Orton*
Minden
Alyse Anderson*
Hannah Merrill*
Justin Villars*
Murdock
Tess Arent*
Nelson
Taylor Harrington
North Bend
Jaxon Wietfeld*
North Platte
Madison Grove*
Jackson Lake*
Jayda Paul
Ogallala
Madeline Ketcham
Omaha
Jennifer Alonso
Jacob Anania*
Caroline Anderson*
Paul Bierman*
Kyleigh Boever*
Leah Dugan*
Laura Hyde
Madison Jagels*
Lauren Jones
Kylie Ketelsen*
Vinh La
Ivan Linenberger
Mackenzie Loseke*
Kai-Bryana Marshall*
Makenzie McNeel*
Elizabeth Mills
Kelsey Peterson*
Jocelyn Polacek*
Hunter Reeves*
Rilee Silvain
Kierra Spurgeon
Kate Thier*
Asia Tyler*
Matthew Urbanski*
Alicia Zimpleman*
Ord
Payton Hackel
Nia McClure
Orleans
Brooke Jorgenson*
Overton
Braden Kizer*
Lillian Nelms*
Ivey Zimmerman
Papillion
Taylor Beacom*
Brian Clausen*
Allison Knowles
Emily McDowell
Teeya Olson*
Paul Plowcha*
Phillips
Andrew Korte*
Pierce
Ashley Pedersen*
Pleasanton
Tyler Pawloski*
Ravenna
Jacob Jarzynka*
Shelby Schroeder*
Rising City
Ceagen Watts
Roseland
Derek Zubrod
Saint Libory
Cora Menke*
Saronville
Kylie Baumert*
Scottsbluff
Emma Foote*
Kennedy Kriewald*
Seward
Kelsie Zadina*
Springfield
Evan Kingston
Stanton
Bailey Patterson*
Sutherland
Brooklyn Elwood*
Sutton
Victoria Hofmann*
Kinser Rafert*
Brett Simonsen*
Syracuse
Tanner Loecker*
Taylor
Raif Ruppert*
Thedford
Marlee Taylor*
Tobias
Breanna Boyce
Trenton
Jordanna McCauley
Valley
Miley Prine
Wahoo
Taylor Stuhr
Walton
Miriam Miller*
Lauren Stull*
Wauneta
Haylee Sandman*
Waverly
Adrianna Bultman
Wolbach
Colby Grossart*
Wood River
Kiernan Paulk
York
Brianna Cobb*
Hayden Royal
Hunter Royal
Yutan
Caden Egr
New Mexico
Los Alamos
Justin Martin*
Roy
Riley Clavel*
South Dakota
Rapid City
Kassandra Ralston*
Tennessee
Franklin
Natalie Watson*
Texas
Austin
Rayvonne Wright*
Houston
Ugochukwu Udeh
Longview
Tanner Cornell
Lubbock
Carli Russell*
Pleasanton
John Zamora*
Sugar Land
Beasley Ihegworo
Taylor
Cadyn Mannella
Utah
Providence
Grace Montierth
Virginia
Lynchburg
Melbourne Palmer*
Wyoming
Casper
Garrett Clasen
Cheyenne
Tiena Chu*
Guernsey
Mickayla VanNatter
Lusk
Baleigh Abbott*
Rock Springs
Brendan Kachnowski
INTERNATIONAL STUDENTS
The Bahamas
Nassau
Kyle Collins*
Lyette Darville
Shimar Gibson*
Summer Pratt*
Kiante Stuart*
Tymia Thompson
Tynaz Thompson*
Germany
Nordrhein-Westfalen – Rheinbach
Nils Schafer*
Perl, Saarland
Gianluca Thelen*
Spain
Barcelona
Gorka Martinez Romero*
Madrid
Mireia del Val Fernandez*
Vulpellac
Julia Vilanova
Mexico
Santa Catarina
Marian Garcia Elizondo*
Norway
Krokelvdalen
Mats Solem Bakkeland*
United Kingdom
Bangor, Northern Ireland
Emily Doherty*
Venezuela
Maracay, Aragua
Carlos Morales Carrera*
Hastings College is a four-year residential college that focuses on student academic and extracurricular achievement. Hastings' student-centered initiatives include providing books, an iPad and a two-week study away experience at no additional cost. A block-style semester schedule allows professors and students to focus on fewer classes at a time and promotes hands-on experiences. Discover more at hastings.edu.