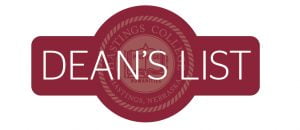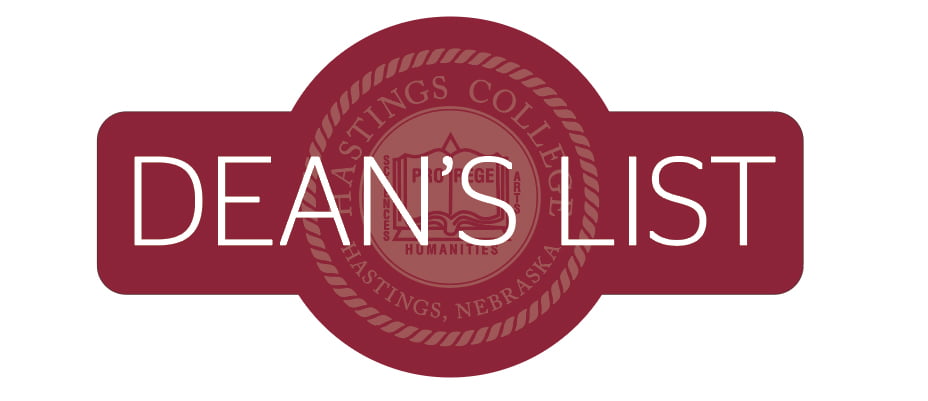 Hastings College has announced the Dean's List for its fall 2019 semester. For the semester, 419 students from 21 states and 10 countries were named to the Dean's List, with 256 students achieving a 4.0 grade point average.
To be eligible for the Dean's List, students must achieve a grade point average of 3.7 to 4.0 scale and be registered for full-time coursework.
Students are listed alphabetically by state and hometown. International students are located at the end of the list.
Students with an asterisk by their name earned a 4.0 grade point average for the semester.
United States
Alabama
Hoover
Margaret Rogers*
Arizona
Chandler
Jacqueline Gilbert
Phoenix
Basil Rabayda
Scottsdale
Cole Achtzehn*
California
Castro Valley
Haley Ashton*
Fresno
Gunnar Gardner*
Livermore
Dragos Dobrin*
Manteca
Daniel Gonzalez*
Oakdale
Max Stevens*
Oceanside
Tomas Martinez*
Pomona
Marco Valdivia
Salinas
Francisco Arevalo
Robert Ramiro Hernandez
Whittier
Anthony Espinoza*
Colorado
Aurora
Selena Gochenour
Charlotte Gochenour
Paola Ramirez Castanon
Bailey Schwartzkopf
Julyah Wilson*
Berthoud
Madeline Pelster*
Briggsdale
Toby Cockreham
Brighton
Nicholas Martinez
Burlington
Jared MacLeod
Myranda Soncksen*
Castle Pines
Nathan Holdridge*
Castle Rock
Madison Mooney*
Alexis Smith
Centennial
Celeste Borg
Rebecca Garner
Madeline Samuelson*
Sarah Sepan*
Central City
Rachel Schmalz
Colorado Springs
Alexandra Dominguez
Emma Downing*
Alianna Higgins
Emma Johnson*
Kiley Logan*
John Sample
Darci Wax
Denver
Samantha Burke*
Danielle Lizarraga
Marcos Montoya
Mireya Rivas
Evergreen
Madeline Downie*
Fort Collins
Anna Moore
Fort Lupton
Keri Housholder*
Fort Morgan
Kacie Hasting*
Jose Jimenez
Golden
Matheson Baird*
Rachel Ney*
Grand Junction
Ryan Biggs*
Gavin Brown
Greeley
Hattie Sheets
Shaun van der Torre*
Haxtun
Dawson Knode*
Highlands Ranch
Michaela Bailey*
Alexis Langenhorst
Erik Wetteland*
Littleton
Tyler Hobbs
Raechel Hoy*
Max Ruppert
Kaley Summers
Longmont
Bailey Beavers
Holly Bosley*
Ashley Ward
Loveland
Charles Olson
Mead
Camilla Lee*
Montrose
Wyatt Edeker
Parker
Tyler Huntsman
Kody Johnson
Peyton
Hunter Anderson*
Mikhala Miller
Roggen
Pedro Guardado
Sheridan Lake
Kaylee Wilson
Sterling
Megan Kaiser*
Thornton
Caleb Ault
Shelby Banks*
Holden Banks
Kourtney Stewart
Westminster
Dominique deSeriere
Brianna King*
Andrew Martel*
Windsor
Sarah Barger
Connecticut
Shelton
Anya Bliska*
Florida
Fort Lauderdale
Sheralle Stubbs
Lake Mary
Kenneth High*
Yulee
David Crawford
Idaho
Castleford
Courtney Poulson
Illinois
Grayslake
Taylor Lipinski*
Iowa
Brooklyn
Caitlin Smith*
Waukee
Jacob Rau*
Kansas
Ottawa
Stefan Foulke*
Perry
Samantha Worthington*
Pratt
David Loomis*
Scott City
Jarret Jurgens
Smith Center
Gracen Hutchinson*
Minnesota
Circle Pines
Nathaniel Navratil*
Eagan
Chloe Carson*
Eden Prairie
Carter Mason*
Plymouth
Jadah Morrison
Spicer
Allison Kennon*
Nebraska
Adams
Emily Lenners*
Alda
June Atkins*
Andrew Streck*
Arik Streck*
Alexandria
Brianna Barton*
Alliance
Karli Farritor*
Sariah Grant
Mason Hiemstra
Benjamin Nollette
Sydnie Waldron
Amherst
Trevor Adelung*
Ansley
Kailey Johnson
Ashland
Jessica Klaudt*
Aurora
Bailey Collingham
Ryan Hunter
Ayr
Hannah Anderson*
Beaver City
Savanah Ellis*
Benkelman
Aubrey Frederick
Bennington
John Hiscock*
Bladen
Morgan Stromer
Blue Hill
Rebecca Cox
Mackenzie Willicott*
Bridgeport
Cassidy Coalson*
Broken Bow
Samuel Duncan
Paige Gajewski*
Travis Kleeb
Logan McCullough*
Ryan Nielsen
Bruning
Melissa Hinrichs
Burwell
Carlee Archibeque*
Hallee Mann*
Joshua Urbanovsky
Miranda Worden
Cairo
Hannah Adams
Emily Krolikowski*
Central City
Koby Brandenburg*
Courtney Dittmer*
Claire Ostrand*
Cassidy Ostrand
Andrew Winsterman
Chadron
Jayden Stack*
Columbus
Joseph Campbell*
Carly Cremers*
Emily Grant*
Joseph Jahn*
Deshler
Leah Schmidt
Doniphan
Keaton Ludwig
Nathan Remm
Reid Schultz
Elkhorn
Keaton Hoeke
Tyler Renner*
Elm Creek
Allison Bauer*
Eustis
Samantha Jack
Fairbury
Charly Lufkin*
Patrick Ondrak*
Fairmont
Madison Galusha*
Jacob Galusha
Firth
Dylan Hafer*
Fort Calhoun
Stephanie Mlynarik*
Fremont
Elizabeth Hansen*
Destani Knapp*
Brittany Teff
Friend
Bryce Eigsti
Geneva
Sydney Schelkopf*
Gering
Riley Schilz*
Giltner
Alexa Preissler*
Glenvil
Rachel Hinrichs*
Amanda Scott
Gothenburg
Patrick Hudson*
Kylie Koehler*
Grand Island
Christy Acevedo*
Jason Bachle
Britiney Baker
Emily Bykerk
John Goering
Benjamin Griess*
Emily Herbek*
Jessica Hoffman
Sydney Holmes*
Jora Jackson-Brown*
Sara Kruse*
Hugo Madera Hernandez*
Mia Pemberton
Tresten Schwarz
Jaydn Smith
MaKenna Supencheck*
Savannah Thornton*
Leigh Uhing
Megan Vaughn*
Effeana Widdifield
Emily Wiegert*
Kara Wiegert*
Greenwood
Kaelan Dea*
Gretna
Haleigh Cunningham*
Justin Hines
Mason Hjermstad*
Guide Rock
Julia Shipman*
Harvard
Jennifer Callahan*
Hastings
Brian Alvarado*
Emily Beave*
Kelsey Blume*
Alyssa Brennfoerder
Sara Brown
Anna Cafferty*
Christiana Cole*
Jewllyan Dettman*
Delaney Feezell
Parker Fleming
Collin Fowler*
Skyler Good
Austin Heikkinen
Benjamin Howie*
Jordan Ismaiel*
Samuel Johnson*
Alexander Kay*
Zachary Kitten*
Nolan Kohmetscher*
Abigail Kryzsko
Evelyn Kryzsko
James Lapka
Benjamin LeBar*
Brianna LeBar*
Laura Lindholm
Ellen Marquardt*
Dominic Martinez
Briana Meyer*
Violet Moreira*
Hallie Murray*
Anh Nguyen*
Karley Oberheide
Kendall Oberheide
Elizabeth Obermiller*
Tyler Ohrman*
Sophia Pankratz
Joshua Peterson
Megan Petr*
Emma Redinger*
Julia Reimer*
Samuel Reimer*
Bailey Richman
Roma Rodriguez*
Kennedy Sander*
Vincent Schmidt
Collin Schnase*
Gregg Smith*
Makenzie Sommerfeld*
Shelby Stone
Hannah Theisen*
William Thompson*
Sarah Truong
Danny Vuong*
Audrey Weeks
Nicole Williamson
Linea Wischmeier
Benedict Clark*
Blake Hessler*
Christian Hessler*
Madison Hittner
Trent Lam*
Paige Lehrling*
Ashton Valentine*
Hemingford
Taeller Ansley
Henderson
Kate Bergen*
Hickman
Tristan Bade*
Hildreth
Sophie Gruwell*
Holdrege
Tatiana Young
Inland
Ashleigh Hinrichs
Juniata
Breeanna Fluckey*
Juniata
Abigail Loetterle*
Hailey Moore*
Chloe Swoboda*
Kearney
Daisy Maessner
Claire Vanderbeek*
Jarod Zikmund
Kenesaw
Preston Johnson
Jessica Kuehn*
La Vista
Sarah Griffel
Lawrence
Samantha Janda*
Lexington
Trevor McKeone*
Lincoln
Kaylie Agostine*
Camden Brichacek*
Logan Cale*
Ireland Currey*
Megan Dlouhy*
Dylan Fitzgerald
Colin Green*
Riley Johnson*
Sierra Johnson*
Josie Knapp
Shelby Lee*
Case McNally
Ethan Molifua*
Kasey Ohnoutka
Olivia Perez*
Brock Rathman
McCook
Emily Arp
Caden Bortner*
Josiane Dominguez
Paxton Terry*
Mead
Josh Quinn*
Milford
Bragan Meyer*
Minden
Jerett McDowell*
Justin Villars
Mullen
Allyson Ginkens*
North Bend
Mackenzie Daniels*
North Loup
Hayden Grint
North Platte
Miranda Gerdes*
Avah Jacobson*
Jayda Paul*
Zachary Sweet
Omaha
Jacob Anania*
Caroline Anderson*
Kaitlin Bierman*
Kyleigh Boever*
Courtney Doeschot*
Leah Dugan*
Zachary Fritton*
Hannah Gehle*
Gabrielle Grasso*
Madison Jagels*
Denae Jones*
Melissa Loney*
William McGuire*
Jocelyn Polacek*
Hunter Reeves
Dylan Rosse
Kaitlyn Schmit*
Lucy Skoch*
Jaisee Stinson*
Kate Thier
Matthew Urbanski*
Mackenzie Waltemath*
Anna Wilwerding*
Ord
Alexandra Smith*
Jesse Ulrich*
Orleans
Shelby Dietz*
Overton
Jayden Eby
Braden Kizer*
Lillian Nelms*
Ivey Zimmerman
Palmer
Claira Thede*
Papillion
Lauren Feden*
Emelia Henely*
Savannah Ludemann*
Teeya Olson*
Paul Plowcha*
Mariah Seip*
Pierce
Ashley Pedersen*
Casey Sutherland*
Plattsmouth
Leah Church*
Pleasanton
Tyler Pawloski*
Ravenna
Jordyn Fiddelke*
Shelby Schroeder*
Red Cloud
Kiara Uhrich*
Rebecca Weber
Roseland
Julianna Jones
Saint Paul
Joelle Derner*
Neely Tubbs*
Scottsbluff
Tiersa Darley*
Noah Hergenreder
Seward
Morgan Souchek
Kelsie Zadina
Stanton
Bailey Patterson
Superior
Jennifer Russell
Sutton
Kesean Mau
Kinser Rafert*
Treygan Rafert
Brett Simonsen*
Devin Wagoner*
Thedford
Marlee Taylor*
Trumbull
Rachel Saathoff
Valentine
Robert Goodwin
Wahoo
Taylor Stuhr*
Waterloo
Kelli Brichacek*
Samuel Plugge*
Wilber
Dustin Jelinek
Wolbach
Colby Grossart*
Wood River
Blake Earnest*
Elijah Hunter
MaKenzie Peters*
Bethany Turner*
Wymore
Kyra Maguire
York
Brianna Cobb
Kennedy Cool
Emma Grenfell*
Grace Sinsel*
New Mexico
Los Alamos
Justin Martin*
Rio Rancho
Vanessa Trimmer-Enriquez
North Dakota
Jamestown
Victoria Levin*
Pennsylvania
Coraopolis
Lauren Newlin
South Dakota
Brookings
Courtney Hanson*
Rapid City
Kassandra Ralston
Sioux Falls
Abigail Shaw*
Tennessee
Franklin
Natalie Watson*
Texas
Houston
Abdulwahab Marei
Pleasanton
John Zamora
Washington
Kennewick
Tan Nguyen
Wisconsin
Hewitt
Jessica Trad*
Wyoming
Casper
Garrett Clasen*
Trevor Kraft*
Cheyenne
Abby Morillon
Jarred Russell
Sarah Sutton
Lusk
Baleigh Abbott
INTERNATIONAL
Australia
Canberra
Lauren Raftery*
Bosnia
Gracanica
Samira Selimovic
The Bahamas
Nassau
Lyette Darville*
Jhaliyah Lewis*
Kiante Stuart*
Canada
St-Augustin-de-Desmaures
Laurie Potvin
Germany
Hesse
Maximilian Meurer
Kaiserslautern
Megan Waterhouse*
Italy
Pocenia
Nicholas Cudini*
Norway
Moss
Henrik Hanche Hafskjold*
South Africa
Dundee
Frederik Nortje*
United Kingdom
Darlington
Marc Colman*
Worthing
Tyrone Madhani*
York
William Turner*
Nebraska's premier private college, Hastings College is a four-year institution located in Hastings, Nebraska, that focuses on student academic and extracurricular achievement. Hastings College has been named among "Great Schools, Great Prices" by U.S. News & World Report and a "Best in the Midwest" by The Princeton Review. For more, go to hastings.edu.