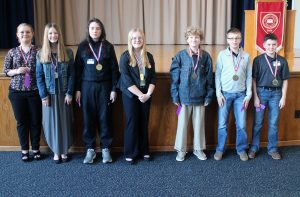 More than 90 projects were entered by students in the Central Regional Science Fair for the Nebraska Junior Academy of Sciences on Tuesday, February 28. The fair was hosted by Hastings College and held at the Morrison-Reeves Science Center on campus.
Schools that participated in this year's Central Regional Science Fair included Adams Central Junior/Senior High School, Central City Public Schools, Sandhills Public Schools, Silver Lake High School and Hastings Public Schools.
The science fair is split into two divisions. The Junior Division is open to students in 6th through 8th grade, while the Senior Division is open to those in grades 9 through 12.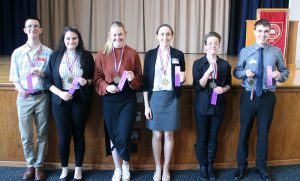 Out of the more than 90 projects entered, six from each division were selected to move onto the State Science Fair competition. The top Senior Division projects from the state competition will also qualify for the National Science Fair.
The 2023 Central Regional State Qualifiers are listed below. An abstract booklet of all entries can be found at hastings.edu/sciencefair.
Junior Division
Hadley Buschow – Hastings Public Schools
Amelia Buhlke – Central City Public Schools
Ethan Prickett – Hastings Public Schools
Claire Detlefsen – Central City Public Schools
Thatcher Teahon – Sandhills Public Schools
Jordan Bonifas – Silver Lake Public Schools
Lee Gibson – Silver Lake Public Schools
Senior Division
Caleb Rowe – Central City Public Schools
Molly Blanchard – Central City Public Schools
Jerzie Schindler – Central City Public Schools
Elaina McHargue – Central City Public Schools
Jacie Boelhower – Adams Central Schools
Dominic Stutesman – Adams Central Schools