Mike Gloor '72, Sharon Behl Brooks '74 and Robb Miller '96 have been named the 2022 Outstanding Alumni of the Year and Miranda Muhs '16 has been named the 2022 Outstanding Young Alumni of the Year by the Hastings College Foundation.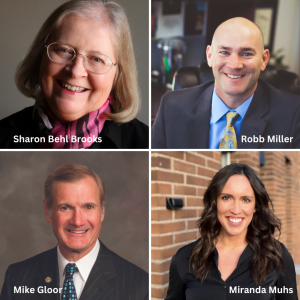 Gloor served as president and chief executive officer of Saint Francis Medical Center in Grand Island, Nebraska, before serving as state senator in the Nebraska Legislature. Currently, he chairs the Greater Grand Island Community Foundation Board. Gloor also remains active in First Presbyterian Church in Grand Island and the Nebraska Chapter of The Nature Conservancy.
Behl Brooks became the first female news director in Nebraska before returning to Hastings College to teach English and communication arts for nearly 40 years. In 2021, Behl Brooks was inducted into the Nebraska Broadcasters Association Hall of Fame for her service in broadcasting and education. Following her retirement from the College in 2016, she has served on the Hastings Public Schools Board of Education and with other community organizations.
Miller currently serves as assistant district attorney in Weld County, Colorado. In addition to prosecuting major criminal cases, he has been integral to forming diversion and drug court programs in the county and speaks locally and nationally on law enforcement issues. Miller, who earned his Juris Doctor from the University of Wyoming School of Law, is active in Boys and Girls Club, the Weld County Justice Services including Community Corrections and Pre-Trial Services Boards, and the Colorado Restorative Justice Council.
Muhs lives in Stockholm, Sweden, and works as an engineering manager at Northvolt, a lithium-ion battery manufacturing company based in Stockholm. She manages a team of engineers who design material flow and robotics equipment focused on the manufacturing process. She was named to the 2022 Forbes 30 under 30 list for European Manufacturing and Industry. After graduating from Hastings College, Muhs earned her master's at Clemson University, and then spent time at working as an engineer for Tesla at its gigafactory in Nevada and for Panasonic USA before starting at Northvolt in 2020.
The Hastings College Foundation Board selected the alumni award recipients earlier this fall. To nominate alumni for these and/or other awards, go to hastings.edu/alumniawards.
Hastings College is a four-year residential college that focuses on student academic and extracurricular achievement. Hastings' student-centered initiatives include providing all required textbooks and an iPad, while a block-style semester schedule allows professors and students to focus on fewer classes at a time. Discover more at hastings.edu.