The Hastings College chapter of Alpha Chi, an academic honorary, saw two of its members receive top research presentation awards in their academic disciplines and two additional members receive regional scholarships at the 2018 Alpha Chi National Convention held earlier this month in Portland, Oregon.
Seniors Mallory Gruben of Eckley, Colorado, and Brian Whetstone of Omaha, Nebraska, each received a top presentation award.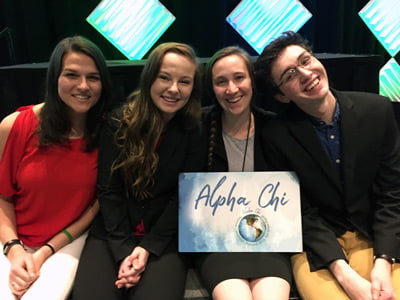 Gruben's presentation, "Not Just Another Magazine: Why We Must Embrace the Use of Alternative Presentation Formats for Academic Research," won the top prize in Communication. The presentation featured Gruben's Irish Fellows Program research project, emphasizing her decision to present her findings as a magazine and not a traditional paper.
"It was exciting to share my research and magazine with Alpha Chi students from across the nation. It allowed me to show my peers options for presenting their findings in a user-friendly way, so as to ensure more people interact, read and understand their research. Plus, it helped me connect journalism to the traditional academic research these students are used to seeing every day," Gruben said.
Whetstone shared his senior seminar research in his presentation "'People Building a People Place': Pedestrian Malls, Urban Renewal and Public Space in Downtown America."  The presentation was honored with the top prize in American History.
"This was the first time I had taken this specific research project beyond my peers at Hastings College; it was invigorating to see such a positive reaction to my research from scholars with such diverse academic backgrounds," Whetstone said. "Likewise, I felt myself drawn to a number of sessions and panels outside of my academic discipline that provided an incredibly rich learning experience throughout the entire conference."
Along with Gruben and Whetstone, juniors McKenzie Currey of Lincoln, Nebraska, and Lyndsay Ruane, of Omaha, Nebraska, attended the convention as Hastings College representatives. Currey and Ruane presented in the molecular biology and physics/astronomy/geology disciplines, respectively.
Currey's presentation, "Alcohol Exposure Slows Proliferation of Pulmonary Mesenchymal Stem Cells," focused on the effects of binge drinking on stem cells in the lung. Ruane's academic poster, "High Density Scintillating Glass Proton Imaging Detector," proposed a new means for imaging and treating cancer with proton therapy.
Also the conference, two annual Alpha Chi Region IV scholarships were announced, and both went to Hastings College students – Allison Braun of Henderson, Nebraska, and Peyton VanWinkle of Kearney, Nebraska.
New Alpha Chi members
Earlier this semester, the Hastings College chapter of Alpha Chi inducted four new members:
Emily Herbek, a communication studies and business administration major from Grand Island, Nebraska;
Sophia Pankratz, a biology major from Hastings, Nebraska;
Sam Reimer, a biology major from Hastings; and
Sarah Truong, a biology major from Hastings.
Alpha Chi is a national collegiate all-discipline academic honor society intended to promote academic excellence and exemplary character among college and university students. The organization accepts only students who place in the top ten percent of their class from all academic disciplines.
Hastings College is a private, four-year institution located in Hastings, Nebraska, that focuses on student academic and extracurricular achievement. With 64 majors and 15 pre-professional programs, Hastings College has been named among "Great Schools, Great Prices" by U.S. News & World Report and a "Best in the Midwest" by The Princeton Review. For more, go to hastings.edu