Hastings College seniors Emilie Barnes and Matthew Brown and junior Mallory Gruben represented the Hastings College Nebraska Alpha chapter of the Alpha Chi academic honorary in Louisville, Kentucky, for the Alpha Chi National Conference April 6-8. During the conference, the three students presented research projects before colleagues from across the country.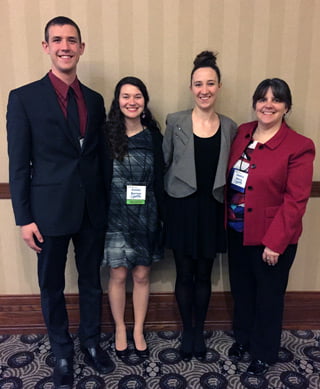 "Only the top 10 percent of each junior and senior class is even eligible for Alpha Chi membership," said Dr. Jessica Henry, Alpha Chi faculty sponsor. "Not only is it an honor to become a member of Alpha Chi, but it is an even bigger honor to be accepted as a presenter for the national conference."
Barnes' poster presentation, "My Conversation with Ireland: The Process of Self-Publishing," detailed her experience writing and publishing original poetry. The presentation featured an excerpt from the poetry anthology she self-published with the help of HC Press to show how she discovered the influence page design has in establishing a poetic theme.
"The conference was an incredible opportunity to network and see what my peers are doing in every discipline," said Barnes, an English major from Omaha, Nebraska. "I was not only able to make many new friends, but also share my poetry with people from all over the country."
Brown shared the results of his summer REU (Research Experience for Undergraduates) project titled, "Characterizing the Boundary Condition for a Water-Solid Interface Under Applied Shear." He reviewed the experiment he helped conduct at the University of Florida, including the contributions the project has within the field of physics. Brown, a physics major from Hastings, received the award for outstanding student presentation in physics.
Gruben, a journalism major from Eckley, Colorado, outlined the reporting process with her poster presentation, "From the News Desk to the Center Spread: Reporting Hard News." She grounded the presentation in an article that published in the Hastings College Collegian student newspaper by offering real-life examples of each step in the process.   
Alpha Chi also distributed regional scholarships during the conference. Each of the seven regions of Alpha Chi awards only two scholarships each year. The 2017 scholarships from Region IV went to Hastings College students Matthew and Marcus Brown of Hastings.
The interdisciplinary conference is hosted in a new location every year. Hastings College was honored as a "Star Chapter" for their continued attendance at the conference.
Hastings College is a private, four-year institution located in Hastings, Nebraska, that focuses on student academic and extracurricular achievement. With 64 majors and 15 pre-professional programs, Hastings College has been named among "Great Schools, Great Prices" by U.S. News & World Report and a "Best in the Midwest" by The Princeton Review. For more, go to hastings.edu.