The Hastings College chapter of Alpha Chi, an academic honorary, saw two of its members receive top honors at the 2022 Alpha Chi National Convention held in Austin, Texas on March 24-27.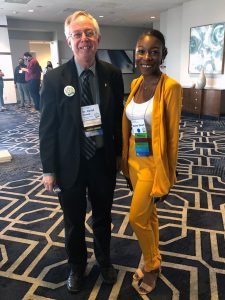 Kiante Stuart, a junior from Nassau, The Bahamas, majoring in communication studies, business administration and marketing, attended the convention and shared her capstone presentation titled "Beyond the Borders: The International Student Experience and Intercultural Communication Competence."
"I've presented many times, yet presenting at this conference meant more to me than anything," Stuart said. "My topic was personal and to know that I was able to share my research to a willing audience made the conference even more special."
She was also elected as the Alpha Chi Region IV student representative to serve on the Alpha Chi National Council for a two year term. This is an honor as there are only seven student representatives and approximately 10,000 new Alpha Chi student members are inducted each year.
"I went there to present not knowing where this journey would take me," Stuart said. "Alpha Chi is filled with a rich history of scholarship and my new role in the National Council will help me be a part of that. I told my region that I was ready to serve and they gave me the opportunity to do so."
In addition, both of the scholarships for Region IV of Alpha Chi were awarded to Hastings College students — Stuart and Natalie Watson.
"I'm incredibly proud to be a part of the Alpha Chi society and be surrounded by a community of students and professors who encourage me to push myself out of my comfort zone," said Watson, a junior majoring in criminology from Leiper's Fork, Tennessee. "Applying for this scholarship was one such instance of encouragement from the community of Alpha Chi. I am honored and extremely thankful to be awarded the Region IV scholarship."
Dr. Jessica Henry, the Hastings College Alpha Chi sponsor, was elected to the National Council last year and attended this year's convention with Stuart.
"I am so impressed with our students," Henry said. "Most students don't have an opportunity to attend a conference at all, much less get elected to a national position in such a prestigious organization. Kiante will have the opportunity to network with student leaders across the country for the next two years as she represents Hastings College and other Region IV schools at the next two national conventions."
Alpha Chi is a national collegiate all-discipline academic honor society intended to promote academic excellence and exemplary character among college and university students. The organization accepts only students who place in the top ten percent of their class from all academic disciplines.
Hastings College is a four-year residential college that focuses on student academic and extracurricular achievement. Hastings' student-centered initiatives include providing books, an iPad and a two-week study away experience at no additional cost. A block-style semester schedule allows professors and students to focus on fewer classes at a time and promotes hands-on experiences. Discover more at hastings.edu.