Hastings College 2018 art graduates have their senior art pieces on exhibition at KANEKO in Omaha, Nebraska, thanks to a growing partnership between KANEKO and the College's Department of Visual Arts.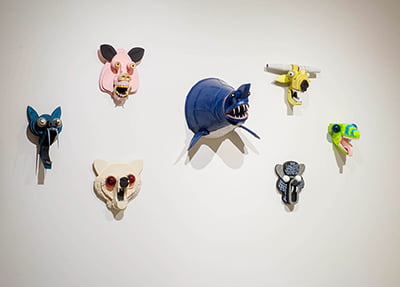 Six recent graduates installed their thesis work at KANEKO as part of the art organization's REALITY exhibition, which opened June 1 and runs through September 26.
The KANEKO galleries, at 1111 Jones Street in Omaha's Old Market, are free and open to the public from 12:00 to 8:00 p.m. Tuesday to Friday, and 11:00 a.m. to 5:00 p.m. on Saturdays.
Through the process of working with KANEKO, the recent graduates gained valuable experience by working with KANEKO staff, curators and writers to organize, install and contextualize their work, giving them hands on experience at a professional level.
"When they were students, they had the experience of setting up their thesis exhibitions in the Jackson Dinsdale Art Center galleries. It's one thing to roll your work down the hall, but it's a much different thing to take your work to a professional setting, off-site," said Aaron Badham, assistant professor of art. "Being involved in all aspects and working with gallery staff is vital to understand when moving into the art world. It's also great for them as graduates to gain exposure in a larger art scene."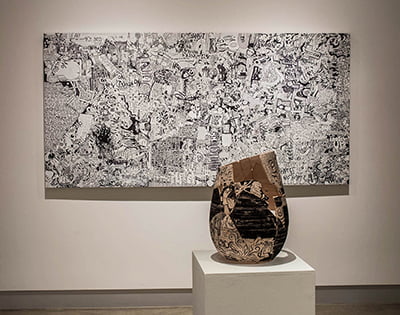 Participants in the REALITY exhibition include 2018 Hastings College graduates:
Hannah Goss of McCook, Nebraska
Cheyenne Knehans of Riverton, Nebraska
Jenna Kulwicki of Hastings, Nebraska
Kasey Lammers of Grand Island, Nebraska
Breanna Obermier of Holdrege, Nebraska  
Caleb Merritt of Brookings, South Dakota
KANEKO has a mission of exploring creativity across the whole spectrum of human activity—including art, science, philosophy, entrepreneurship, urban planning and education. Established by internationally renowned sculptor Jun Kaneko, KANEKO was conceived of as a place where thoughtful examination of others' ideas through a variety of exhibitions and public programs leads people to new and exciting ideas of their own.
Hastings College and KANEKO have also partnered to create Open Space, a summer art immersion program specifically designed for future artists completing their junior year of high school. For more, go to hastings.edu/openspace.
Hastings College is a private, four-year institution located in Hastings, Nebraska, that focuses on student academic and extracurricular achievement. With 64 majors and 15 pre-professional programs, Hastings College has been named among "Great Schools, Great Prices" by U.S. News & World Report and a "Best in the Midwest" by The Princeton Review. For more, go to hastings.edu.