The Hastings College Department of Visual Arts is hosting glass artist Jason Christian of Seattle, Washington, January 9-11, 2020, at the Jackson Dinsdale Art Center (JDAC).
Christian will give a lecture about his work, career, the Northwest style of glass blowing and the value of a team in the glass studio on Thursday, January 9 at 5:00 p.m. in the lower level auditorium of the Wilson Center (814 N. Turner Ave).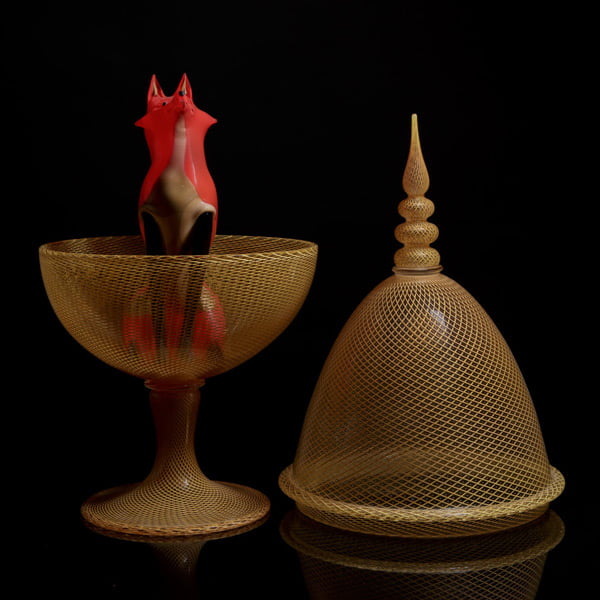 He will give a demonstration of hot sculpting and venetian glass blowing techniques on Friday, January 10, at 6:00 p.m. in the JDAC (700 E. 12th Street).
Both events are free and open to the public.
Christian will also demonstrate hot sculpting and venetian glass blowing techniques for students during class. Students will have the opportunity to work directly with the artist in creating his elaborate work, learning about advanced methods of glassblowing and discussing how to develop ideas and selecting the appropriate process for the concept.
About Christian
Christian is an integral member of Dale Chihuly's boathouse team, where he collaborates with international artists, including the late Pino Signoretto. He has worked with many well-known glass artists and has taught at Pilchuck Glass School in Stanwood, Washington; Urban Glass in New York City, New York; and at the University of Texas Arlington.
However, Christian didn't start as an artist. He grew up in Coupeville, Washington, where his father worked as a metal fabricator, and his mother was a nurse. Early on, he worked construction and odd jobs, but Christian felt something was driving him to a more creative vocation. His mother pushed him to check out the glass studio downtown.
Christian watched a master glassblower turn a molten blob become a flower and found his true calling. The Northwest glass scene was in full swing with Italian masters moving to Seattle, Washington. There was a lot of work to do, and Christian found the sense of community he had always wanted.
Nebraska's premier private college, Hastings College is a four-year institution located in Hastings, Nebraska, that focuses on student academic and extracurricular achievement. Hastings College has been named among "Great Schools, Great Prices" by U.S. News & World Report and a "Best in the Midwest" by The Princeton Review. For more, go to hastings.edu.