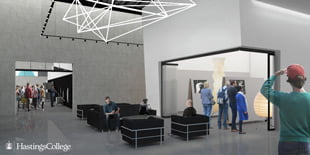 Hastings College officials broke ground to celebrate the start of construction on the Jackson Dinsdale Art Center.
"This is a dream come true — the realization that the work we do with our students is recognized and rewarded," said Tom Kreager, Professor of Art at Hastings College. "We will move from the maze of rooms, stairways and hallways that currently house the art department to the Jackson Dinsdale Art Center (JDAC) — an art facility designed and built with our students in mind, designed with the input and knowledge of the art faculty. The studios in the JDAC will offer our students the best possible studios for them to learn, produce and grown in."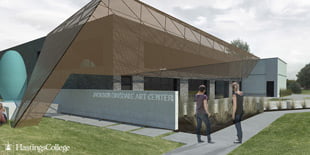 Hastings College President Don Jackson '70 said the following at the event:
"The desire for change, a critical evaluation, and evolution have brought us together this afternoon. Seeing ways in which the current Art Center could better meet students' needs, Jackson Dinsdale envisioned change for the Hastings College Art Department. He doggedly and successfully helped put into motion plans for a renovation and expansion of the department. Following our loss of Jackson, Kim and Tom Dinsdale sought the beautiful amid the tragic and approached the College about re-evaluating the initial project. Their evaluation brought about an evolution. A legacy gift from Jackson would serve as the seed money for the entirely new facility we celebrate today."
On schedule to be completed in August 2016, the 25,000 sq. ft. Jackson Dinsdale Art Center will serve as the new home for the Hastings College Art Department. The $8.5 million facility, which will sit at the corner of 12th Street and Elm Avenue, is the College's first new building since the opening of the Morrison-Reeves Science Center in 2009. In November 2014, Kim and Tom Dinsdale announced a $5 million legacy leadership gift from their late son Jackson Dinsdale. This is the largest gift Hastings College has received for building construction.
Among the building's features are expanded studios for glassblowing, painting, sculpture production, printmaking and ceramics along with individual studio space for students. Additionally, the design includes critique rooms, a media room, classrooms and gallery space – all designed to facilitate engagement among K-12 school groups, the broader community and Hastings College's art programs.
For more information about the project and Jackson Dinsdale, visit hastings.edu/artcenter. 
Video from the groundbreaking: