The Hastings College Broncos Forensics team finished 11th in the nation at its national tournament, the AFA-NST, which was held recently in Lincoln, Nebraska. This is the fifth year in a row the team finished in the top 12 at nationals.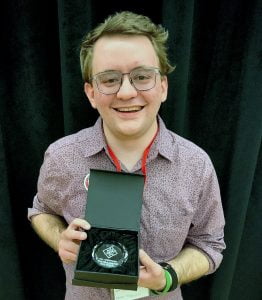 Sam Johnson, a senior from Hastings, Nebraska, was named an All-American at the tournament. He is the 20th All-American in forensics from Hastings College. Hastings College continues its streak of having the most all-time AFA All-Americans of any school in the country.
Brendan Kachnowski, a senior from Rock Springs, Wyoming, was the team's highest individual finisher, placing 4th in Drama.
Several students advanced in the tournament. They include:
Betsy Miller, a first-year student from Arlington, Kansas, who broke into quarterfinals in Persuasion.
Kachnowski, in addition to being a Drama finalist, also broke into quarterfinals in Prose.
Nikki DeSeriere, a junior from Westminster, Colorado, broke into semifinals in Poetry and quarterfinals in Program Oral Interpretation.
DeSeriere and Kachnowski also were semifinalists in Duo
Other members of the team who performed and earned points included Jacob Stulken, a sophomore from Doniphan, Nebraska; Brooklyn Elwood, a sophomore from Sutherland, Nebraska; Mae Heater, a sophomore from Bennington, Nebraska; Chloe Carson, a senior from Eagan, Minnesota; and Johnson.
"This is the 5th consecutive nationals Hastings College has placed, as a team, in the top 12 of the open division," said Dr. Austin McDonald, interim director of forensics. "This group worked hard to adjust to the last two years of online forensics. Our first nationals back in person was a delight, as our host, the University of Nebraska–Lincoln, and the AFA staff did a tremendous job."
Hastings College is a four-year residential college that focuses on student academic and extracurricular achievement. Hastings' student-centered initiatives include providing books, an iPad and a two-week study away experience at no additional cost. A block-style semester schedule allows professors and students to focus on fewer classes at a time and promotes hands-on experiences. Discover more at hastings.edu.