The work of five senior art majors make up the first of two thesis shows this year in the Hastings College Jackson Dinsdale Art Center (JDAC). The show is open now through April 24 in both JDAC galleries, which are open from 9:00 a.m. through 5:00 p.m. Monday through Friday. A public lecture and reception for the exhibition is Friday, April 22 from 6:00 to 8:00 p.m. in the Wilson Center Auditorium.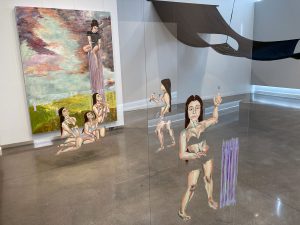 The galleries and lecture are both free and open to the public.
This exhibition features work from Skye Hillman, an art education major from Grand Island, Nebraska; Kylie Lierz, a studio art major from Lincoln, Nebraska; Avery Muff, an art and history/philosophy double major from Hastings, Nebraska; Melbourne Palmer, a studio art major from Lynchburg, Virginia; and Rayvonne Wright, a studio art major from Austin, Texas.
Hillman's work, titled "But I'm Afraid of Heights," is an interactive experience that investigates how condemning society can be to an individual. Each layer of the painting is important to the story and has enough weight to it to command its own plane to operate. The viewer is invited to walk between each panel, as well as view the entirety of the body as one.
Lierz's mixed media work, titled "Apartment 2020," is a place of disarray — an unkempt world hidden away from people.
"Lineation," by Muff is a quartet of assemblages, part blown glass and part found objects, that invite the viewer to examine the relationship between art, craft, object and sculpture.
Palmer's work, titled "How to Light Up a Room," is comprised of video and mixed media. This project is a multisensory installation that utilizes projected photographic films, olfactory compositions, found soundtracks and sculptural forms to explore how a cohesive aesthetic experience can be created by many types of sensory experiences.
"My Self's Sense of Security," utilizes fabric and focuses on Wright's interpretation on the feeling of comfortability and what it means to be an autisitc artist and how that diagnosis has affected the Wright and "how I perceive my artwork and world around me."
The second senior art thesis exhibition opens May 2 in the JDAC.
Hastings College is a four-year residential college that focuses on student academic and extracurricular achievement. Hastings' student-centered initiatives include providing books, an iPad and a two-week study away experience at no additional cost. A block-style semester schedule allows professors and students to focus on fewer classes at a time and promotes hands-on experiences. Discover more at hastings.edu.