The first thesis gallery show, which features the work of five senior art majors, is open now through April 20 in the Hastings College Jackson Dinsdale Art Center (JDAC). The show is in both JDAC galleries, which are open from 9:00 a.m. through 5:00 p.m. Monday through Friday.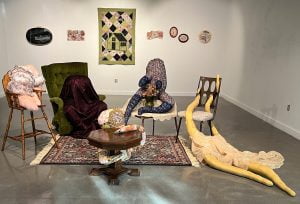 A lecture for the exhibition Sunday, April 16, from 2:00 to 4:00 p.m. in the Wilson Center Auditorium (814 N. Turner Avenue), followed by reception in the JDAC sponsored by Blue Fork. The galleries, lecture and reception are free and open to the public.
This exhibition features work from Jennifer Alonso from Omaha, Nebraska; Aviana Papazian from Glenvil, Nebraska; Jocelyn Wahl from Campbell, Nebraska; Sydnie Waldron from Alliance, Nebraska; and Anna Wilwerding from Omaha.
Alonso's "Donde Me Encontré" is pulled from interpersonal thoughts and memories lived through the lens of a Mexican American raised in rural Nebraska. She is searching to find a connection to the split identity that comes with being raised by a household of immigrants trying to hide their identities to avoid discrimination.
Papazian's large scale drawings are a study of interpersonal relationships through the indirect self portraits of hands.
"Veil" is a ceramic wall installation by Wahl. These ceramic masks create a visage of a wiccan creature, the Fae, peering out at the viewer through the veil.
Waldron's installation, "The Parlor," is a group of five figurative soft sculptures, each displayed with their own set of found objects. Alongside one another, they confront topics surrounding mortality and the inevitability of the human condition. Through provocatively comedic forms they aim to bring balance to chaos, and begin to make peace with life and death.
"Is This Home?" by Wilwerding is a mixed media exhibition that utilizes a combination of printmaking and textile arts. Wilwerding's work explores the ideas of change, growing older, and what it means to call somewhere home.
The second senior art thesis exhibition opens April 25 in the JDAC.