The Hastings College Alumni Association will recognize 1996 graduate Casey Fangmeyer as the Outstanding Alumni Coach of the Year for 2017 during a dinner celebration and induction on Saturday, September 30, 2017.
The Outstanding Alumni Coach of the Year of the award was established in 2004. Each year, it is presented to a Hastings College graduate who has shown exceptional achievement in an athletic coaching profession.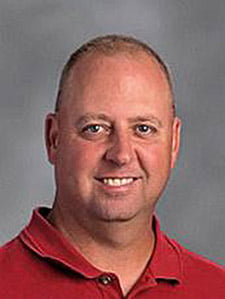 Fangmeyer played baseball at Hastings College from 1992 to 1994, followed by a two-year position as the team's student assistant from 1994 to 1996. After his graduation from Hastings College, he moved to Red Cloud, Nebraska, acquiring positions in teaching and coaching.
Fangmeyer's coaching career is rooted in his position as the head coach of the girls high school basketball team in Red Cloud, and he has mentored the Warriors for the last 19 years.
He led the team to its first-ever state qualification in 2000. The girls finished that year as runners-up, with a 20-5 season record. The team qualified for state again in 2005 and 2017, with the latter year featuring a team of only six girls and a 20-4 record.
Fangmeyer has also served in coaching roles for boys basketball, football, boys golf and boys and girls track at Red Cloud. He is married to Dr. Keri Wulf Fangmeyer and has two daughters.
Fangmeyer will be recognized during the College's Athletic Hall of Fame induction ceremony, which begins at 5:00 p.m. September 30 with a social hour at Kiewit Gymnasium, immediately followed by a banquet at 5:30 p.m. Tickets for the banquet are $25 per person and may be purchased by contacting the alumni office at 402.461.7363 or emailing alumni@hastings.edu.
Hastings College is a private, four-year institution located in Hastings, Nebraska, that focuses on student academic and extracurricular achievement. With 64 majors and 15 pre-professional programs, Hastings College has been named among "Great Schools, Great Prices" by U.S. News & World Report and a "Best in the Midwest" by The Princeton Review. For more, go to hastings.edu.