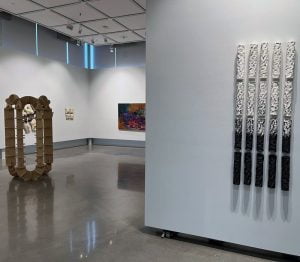 Work produced by Hastings College Department of Visual Arts faculty is currently on exhibition in both galleries in the Jackson Dinsdale Art Center (JDAC).
The exhibition is open now through March 29 in the JDAC (700 E. 12th Street), and is free and open to the public. Regular gallery hours are Monday through Friday from 9:00 a.m. to 5:00 p.m.
A reception for the exhibition is Friday, March 24 at 6:00 p.m. in the JDAC.
The exhibition includes a diverse collection of art produced as acrylic on book covers, stoneware, oil on canvas and mixed media. It offers a view into the world of the department's faculty in their roles as educators and professionals.
Department of Visual Arts faculty and instructors participating include:
Aaron Badham, assistant professor of art – sculpture
Brian Corr, assistant professor of art – glass
Jerome Dubas, visiting instructor of art – ceramics, art history
Shabnam Jannesari, assistant professor of art – painting and drawing
Turner McGehee, professor of art – printmaking, drawing