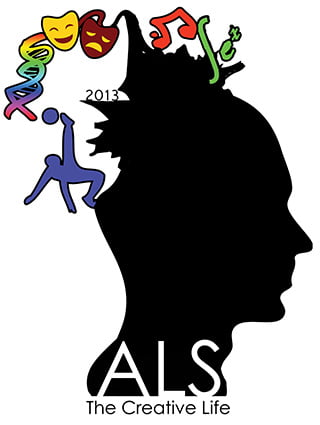 The Hastings College Artist Lecture Series Student Symposium Committee is pleased to announce its upcoming speaker series, entitled "The Creative Life". From Tuesday, Oct. 8 through Friday, Oct. 11, 2013, the symposium will feature keynote speakers Julie Burstein, Courtney McCashland, Cesar Kuriyama and David Murphy. These nationally-recognized speakers will join local experts in addressing how to utilize creativity in all aspects of life. Unless otherwise noted, events will be free and open to the public.
"I hope that attendees of this symposium will cherish the inherent creativity that each and every one of us possesses, and will use this manifestation of their own personal creativity to apply throughout their liberal arts education and their lifelong pursuit of knowledge," says Alex Eisele, a junior from Greeley, Colo., and Artist Lecture Series Student Committee Co-Chair,
The full schedule of events is available below. Speakers' bios are listed in order of their appearance.
Tuesday, October 8
11:00 a.m. – 1:00 p.m. — Create Your Own Photo
Location: Hazelrigg Student Union (HSU) Lobby (705 E. 9th Street)
Grab your friends and pose with crazy props! Snap your photo in the lobby of HSU.
7:00 p.m. – 8:30 p.m. — Open Mic Night
Location: HSU Lobby
This event will showcase the students' various talents ranging from poetry to music. Free Bronco Blend drinks will be provided to the first 50 attendees!
Wednesday, October 9
7:00 p.m. —  Keeping the Questions Open
Speaker: Julie Burstein
Location: French Memorial Chapel (800 N. Turner Ave.)
What are essential elements for creating a space in which creativity can flourish? Julie offers a tour through some of creativity's essential byways; shining a beam onto its mysterious workings in a way that is illuminating and can help us find more dimensions within ourselves and put them to good use.
Thursday, October 10
10:00 – 11:00 a.m. —– Creative Performance through Individual Strengths
Speaker: Courtney McCashland
Location: French Memorial Chapel
Join Dr. McCashland as she teaches you the science of uncovering your born talents, the process of identifying your strengths activities, and the strategy of accelerating creative performance throu
gh strengths.
11:30 a.m. – 12:30 p.m. — HC Faculty Panel Discussion Led by Julie Burstein
Panel Members: Hastings College President Don Jackson; Dr. Fritz Mountford, Professor of Music; Barbara Sunderman, Associate Professor of Teacher Education; Dr. Neil Heckman, Professor of Chemistry; and Dr. Mark Zajack, Assistant Professor of Psychology
Location: HSU Rooms A&B
1:00 p.m. – 2:00 p.m. — First Breakout Sessions – Choose your session!
Breakout Session #1A:  Creating Peace Through Arts Therapy
Speakers: Bev Nelson and Adreanne Brungardt
Location: HSU Rooms A&B
Hands-on session with Bev Nelson and Adreanne Brungardt where you'll learn how to creatively combine music, psychology, and spirituality to help people relax, reflect, inspire, and heal.
Breakout Session #1B:  History and Innovation in Plant Breeding and Genetics
Speaker: Dr. Ben Ford
Location: HSU Room C
Join Dr. Ben Ford, a maize genetic scientist for Syngenta, to learn about the latest technologies used to develop new varieties of corn.
2:30 – 3:30 p.m. — Second Breakout Sessions – Choose your session!
Breakout Session #2A:  Creating Entrepreneur Opportunities in the Third World
Speaker: Jarryd Widhalm
Location: HSU Lobby
Join Jarryd Widhalm as he introduces you to Kiva, a non-profit organization with a mission to connect people through lending to alleviate poverty.
Breakout Session #2B:  Create Your Own Sushi – STUDENTS ONLY SESSION
Speaker: Sue Hoss
Location: HSU Rooms A&B
Join Sue Hoss, former editor of Cuisine Magazine, as she teaches you the art of rolling sushi.
Breakout Session #2C:  The Neurology of Creativity
Speaker: Dr. Lorraine Edwards
Location: HSU Room C
Dr. Lorraine Edwards, a Hastings, Neb.-based neurologist, will discuss the science behind the brain and the creative process.
7:30 p.m. — My Personal Creative Journey
Speaker:  Cesar Kuriyama
Location: French Memorial Chapel
There are so many tiny, beautiful, funny, tragic moments in your life – how are you going to remember them all? Cesar has been selecting one second of video from every day of his life, and editing them together into a montage that both records his life and forces him to reevaluate how he approaches each day.
Friday, October 11
10:00 – 11:00 a.m. – Just 'Dying' to Create: On Music, Lyrics and Zombies
Speaker: David Murphy
Location: French Memorial Chapel
Author and songwriter David Murphy performs, discusses his Zombie-inspired books and tells his own creative life story.
7:30 p.m. – Eight is NEVER Enough Improv and Musical Comedy Show
Location: French Memorial Chapel
This comedy show features cast from the television, film and professional stages of New York City. Recent shows lampooned everything from the crisis in Syria to Miley Cyrus "reinventing" twerking and the lousy media coverage of both. Come be a part of the show!
ABOUT THE SPEAKERS
Julie Burstein
Julie Burstein is a Peabody Award-winning radio producer, best-selling author, and public speaker who has spent her working life in conversation with highly creative people through interviewing, probing, guiding and creating public radio programs about them and their work. The TED conference asked Julie to spe
ak at TED2012, and she often gives talks about creativity and innovation at museums, corporations and universities. She is a sought after panel moderator for venues such as: the American Museum of Natural History, WNYC, Wesleyan University, NYC Wildflower Week and the World Science Festival. She is the host of pursuitofspark.com, which provides conversations of everyday creative lives.
Dr. Courtney McCashland
Dr. Courtney McCashland serves as the President of the Global Assessment Division at Kenexa, a provider of HR solutions designed to help global organizations multiply business success by identifying the best individuals for every job and fostering optimal work environments for every organization. Dr. McCashland consults with employers to architect human capital systems that turn talent into performance. To deliver high-impact strengths solutions, Dr. McCashland pioneers innovative talent research as the founder and visionary of TalentMine®, a global, performance-based talent assessment firm that helps employers tap the potential of their human capital.
Bev Nelson
Bev Nelson is a board certified music therapist and music educator.  As a music therapist she has worked in oncology, geriatrics pediatrics, psychology and hospice.  Bev composes and arranges, and is currently assistant director of Circle of Song, a women's choral group that focuses on singing compassion into the world.
Adreanne Brungardt
Adreanne Brungardt is pursuing her Master of Music in Music Therapy at Colorado State University (CSU).  Miss Brungardt is a 2011 graduate of Hastings College where she earned her Bachelors of Music in Vocal
Performance and was a Who's Who Award recipient. At Hastings, Miss Brungardt performed with the Hastings College Choir, Vocal Spectrum, Jazz Ensemble, and College Bands. She studied voice with Dr. Hillary Watter. At CSU, Miss Brungardt is in the CSU Chamber Choir under Dr. James Kim and studies music therapy with Dr. Michael Thaut, Dr. Blythe LaGasse, Dr. William Davis and Nichole Wilshusen.  She is a Student Music Therapist in the Poudre Valley School District, providing services to children with autism. Miss Brungardt is a member of the Colorado State Music Therapy Student Association and has professional membership in the Colorado Association of Music Therapy and American Music Therapy Association.
Dr. Ben Ford
Dr. Ford received his doctorate from Iowa State University in 2001.  He has worked with Syngenta for 12 years and is currently part of an international project to develop crops that can better withstand drought conditions.
Jarryd Widhalm
Jarryd Widhalm, a Kiva representative, is from Aurora, Neb., and graduated from Nebraska Wesleyan in 2009. He earned a Rotary Ambassadorial Scholarship to study in Monterrey, Mexico, where he earned a Master's in International Business in 2010. As part of the scholarship requirements, he volunteered as a micro-business consultant to a man who made Huichol bracelets, necklaces, purses and art. After this experience, Widhalm started to get involved with micro-finance via four loans through Kiva.org in June of 2011. Kiva is a non-profit organization concerned with alleviating poverty in third world countries through entrepreneurship. Since then he has made 216 loans to 70 people. He also volunteers for Kiva translating the stories of Kiva borrowers from Spanish to English. Currently, Jarryd is working as a bilingual manager in the Gallup Poll interviewing center in Bellevue, Neb..
Sue Hoss
Sue Hoss, former editor of Cuisine Magazine, has a degree in English from Gustavus Adolphus College in Minnesota and an Associate's degree in Culinary Arts from New England Culinary Institute in Vermont. Sue has the extreme fortune of actually using both of them in her current role as an owner/partner in Main Dish Media, a custom publishing company specializing in editorial content, recipe development, food styling, photography, video production and consulting to clients such as Campbell's Soup, Kraft Foods, Fleishmann's Yeast, Got Milk?, Better Homes and Gardens, Diabetic Living, Sandra Lee and Taste of Home magazines. In 2012, Sue helped launch Plymouth Grounds coffee shop at her church, a job training site for students with intellectual disabilities. Her work there was the impetus for a new project: a digital cooking magazine designed specifically for those with intellectual disabilities. Look, Cook, and Eat hopes to launch in 2014.
Dr. Lorraine Edwards
Dr. Lorraine Edwards, Director of Mary Lanning's Primary Stroke Center, has been actively involved in teaching and research throughout her career.  She began as a nurse during the 1980's initiating a cardiac program for patients. She later achieved a Bachelor of Science in Chemistry from the University of Nebraska-Kearney before entering the University of Nebraska Medical School.  During her medical school training and residency she worked with mentors Ronald Pfeiffer, MD, and Eammon Quigley, M.D, completing and publishing several innovative studies regarding the gastrointestinal disorders associated with Parkinson's Disease. After completing her neurology residency in Rochester, N.Y., she opened a private practice in Hastings, Neb. Despite a busy practice she has continued an interest in research and teaching by mentoring young researchers and offering a class during Hastings College's January Term (J-Term), entitled "Understanding How the Brain Works". Additionally, she provides multiple continuing education seminars for physicians, nurses, patients and the community.
Cesar Kuriyama
Cesar Kuriyama is a director, producer, TED speaker, 3D VFX artist, animator, educator, and self-proclaimed "geek". His clients have included Hershey's, BMW, Verizon, Gillette and the NFL. His personal works have generated millions of online views and have been featured in Fast Company, Wired, Mashable, CNN and BBC. He has taught courses in computer animation at NYU, Harvard, and Pratt University. He is currently pursuing creative endeavors, such as One Second Every Day.
David Murphy
David P. Murphy is a songwriter and producer of four CDs, "Shining in a Temporary Sun;" Henry Perry's "Effortless" — much of which was recorded in Hastings, Neb.–; Camille Metoyer Moten's "ASimpler Christmas;" and Beth Asbjornson's "Gratitude."  His next album, "My Fraudulent Memorirs,"will be released in late 2013. His song, "I Can Barely Think About the Spring," appeared in the feature film, "Mardi Gras: Spring Break." David is also the author of five books: "Zombies for Zombies: Advice and Etiquette for the Living Dead," "Zombies for Zombies: The Play and Werk Buk," "Ace Your Zombie Exam: The Official Ph.Z. Study Guide", "The Doomsday Survivial Handbook: Bucket Lists for Every Conceivable Apocalypse" and his most recent book, a self-published collection of short stories, "Rapturella and Other Apocalyptic Tales."
Founded in 1882, Hastings College is a private, four-year liberal arts institution located in Hastings, Nebraska, that focuses on student academic and extracurricular achievement. With 64 majors in 32 areas of study and 12 pre-professional programs, Hastings College has been named among "America's Best National Liberal Arts Colleges" by U.S. News & World Report, a "Best in the Midwest" by The Princeton Review and a "Best Buy in College Education" by Barron's. Visit Hastings.edu for more.
-30-