Select pieces from the Hastings College Permanent Collection of Art will be on exhibit September 7-21 in the gallery at the Jackson Dinsdale Art Center (700 E. 12th Street). Gallery hours are 9:00 a.m. to 5:00 p.m. Monday through Friday, and 9:00 a.m. to 1:00 p.m. on Saturdays.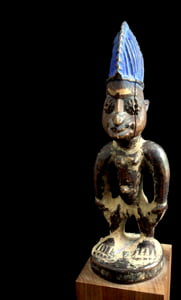 In the late 1970s, Hastings College began acquiring permanent collection works with support of a grant through the Woods Charitable Trust.
The first chair of the acquisition committee was Norman Geske, who was then director of the Sheldon Gallery (now the Sheldon Museum) in Lincoln, Nebraska. It was through his leadership that the college began to collect works by many of the world's most important artists.
Today, the collection includes hundreds of objects, from African tribal art to prints by Jasper Johns. A portion of the permanent collection is on display in various buildings and outdoors on campus. Perkins Library, for instance, exhibits more than two dozen items from the permanent collection, including prints by Robert Motherwell and Andy Warhol. Though much of the 450 piece collection remains in storage, the Hastings College Permanent Collection of Art exhibition is the yearly opportunity for prized works to rotate into public view.
Most of the items in the collection come from artists or donors with whom Hastings College has some relationship: students, alumni, visiting artists and so on. This year's show is curated by Turner McGehee, professor of art, and produced by Kevin Mercer, gallery director and adjunct professor of art. It is meant to represent the wide variety of art that comprises the collection.
Hastings College is a private, four-year institution located in Hastings, Nebraska, that focuses on student academic and extracurricular achievement. With more than 60 majors and 15 pre-professional programs, Hastings College has been named among "Great Schools, Great Prices" by U.S. News & World Report and a "Best in the Midwest" by The Princeton Review. For more, go to hastings.edu.