After a successful launch as a club program in 2021-22, with three of the four teams making the playoffs and one finishing as runner-up in its division, the Hastings College esports team has been elevated to a full varsity sport this fall — the 24th varsity sport on campus.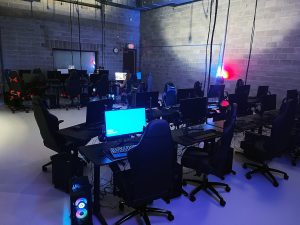 The Hastings College team grew from 21 participants in the fall of 2021 to nearly 40 students this year, including eight players who are receiving an esport scholarship. With the large number of participating students, the team moved into a new esports arena in the Gray Center on campus, with the number of Lenovo Legion setups more than doubling from 10 to 22 PCs.
"Having 22 setups will help us facilitate better practices, with multiple teams being able to use the space at the same time," said head coach Andy Chase. "This also means we'll be able to have multiple teams competing at the same time, allowing us to run an overall more efficient program and host tournaments for high school teams."
Hastings College esports is also expanding games it plays for the year, adding League of Legends to its lineup of VALORANT, Rocket League, Tom Clancy's Rainbow Six Siege and Overwatch. League of Legends will be a practice squad in the fall and competitive in spring 2023.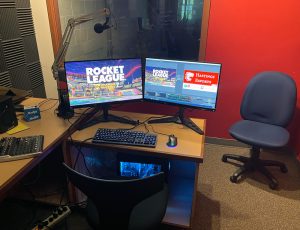 The Broncos compete against institutions across North America through the National Esports Collegiate Conference (NECC). NECC grew significantly over the last year, from 153 colleges and universities participating last year to 250 this year. It launched in the fall of 2020 with just 36 participating schools.
"We are thrilled to hear the news about the Hastings esports program transitioning from a club program to a varsity sport on campus," said Jacob VanRyn, NECC commissioner. "They are building something special at Hastings, and to see the support from campus leadership is awesome."
The broadcast room for the Broncos Twitch channel (Twitch.tv/HastingsCollege) moved next to the arena and will provide more creative opportunities for the Twitch streams, including the addition of shoutcasters, which are comparable to announcers in a sports broadcast, to some competitions.
"I am incredibly excited and proud of what we are building here," Chase said. "The support throughout the college and community has been heartwarming. We've grown in every aspect after a great first season, and continue to have high expectations for our team."
The Broncos intend to be full members of the NECC, as well as sponsor the Nebraska Schools Esports Association (NSeSA). The NSeSA is the high school competition level in Nebraska that included 53 high schools in the spring.
Hastings College is a four-year residential college that focuses on student academic and extracurricular achievement. Hastings' student-centered initiatives include providing books, an iPad and a two-week study away experience at no additional cost. A block-style semester schedule allows professors and students to focus on fewer classes at a time and promotes hands-on experiences. Discover more at hastings.edu.