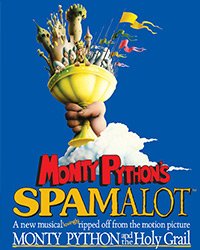 If you are looking for the perfect thing to do in January, the Hastings College Theatre Department has the Holy Grail for you. "Monty Python's 'Spamalot'", a musical comedy based on the critically acclaimed film "Monty Python and the Holy Grail", tells the story of King Arthur and his fellow Knights of the Round Table on their journey to discover the Holy Grail and prove that Arthur is the rightful King of England. Will they succeed? Or will they fall to the killer rabbits? Grab your coconuts, bring your friends and come see for yourself!
Performances are Thursday, January 28; Friday, January 29; and Saturday, January 30 at 7:30 PM with a final performance on January 31st at 2:00 PM. All performances will be in Scott Studio Theatre (806 N. Turner Ave.) This presentation contains mature language and subject matter.
All tickets are $5 for all Hastings College students and seniors, and $7 for general admission. To reserve your tickets, contact tickets@hastings.edu.
HASTINGS COLLEGE DEPARTMENTS OF THEATRE AND MUSIC PRESENT
MONTY PYTHON'S SPAMALOT
Book and Lyrics by Eric Idle
Music by John Du Prez & Eric Idle
From the original screenplay by: Graham Chapman, John Cleese, Terry Gilliam, Eric Idle Terry Jones and Michael Palin
Warning: This production contains mature language and subject matter.
CAST LIST:
KING ARTHUR – Colt Hoselton from Juniata, Nebraska
SIR ROBIN – Joe Prickett from Hastings, Nebraska
SIR LANCELOT – Aaron Spracklin from Elmwood, Nebraska
PATSY –  Jacob Neinheuser from Juniata, Nebraska
SIR GALAHAD – Jonathan Heredia from Grand Island, Nebraska
SIR BEDEVERE – Sabrina Maxwell from North Richland Hills, Texas
HISTORIAN, NOT DEAD FRED, BLACK KNIGHT, FRENCH TAUNTER,  PRINCE HERBERT – Hugo Madera from Grand Island, Nebraska
THE LADY OF THE LAKE –  Karli Cabrera from Pawnee City, Nebraska
MAYOR, BROTHER MAYNARD, PRINCE HERBERT'S FATHER, KNIGHTS OF NI, TIM THE ENCHANTER, HISTORIAN, GUARDS, DENNIS' MOTHER, SIR BORS, ROBIN'S MINSTRELS, CONCORDE, FRENCH GUARD, THE LAKER GIRLS, DEAD FOLKS, FINNISH DANCERS, OZZIE OSBORNE, MILEY CYRUS, PINK, NSYNC, JUSTIN BIEBER will be played by:
Ginger Ball from Marysville, Washington
Anna Flairty from Omaha, Nebraska (Douglas County)
Austin Heinlein from Hutchinson, Kansas
Rebecca Holcomb from Parker, Colorado
Katie Kingsley from Hastings, Nebraska
Nate Mohlman from Blue Hill, Nebraska
Joseph Quinn from Hastings, Nebraska
Alex Rieflin from Doniphan, Nebraska
Hannah McConnell from Hastings, Nebraska
Nathaniel Sass from Hastings, Nebraska
Cami Sharratt from Savage, Minnesota
Hoyt Shryack from Hastings, Nebraska
ORCHESTRA:
Violin – Melissa Reichert from Sutton, Nebraska
Clarinet –Lexi Leonard (Assistant Choreographer) from Bellevue, Nebraska
Tenor Saxophone – Alex Dominguez from Grand Island, Nebraska
Trumpet 1 – Nathan Jensen from Hastings, Nebraska
Trumpet 2- Carly Cremers from Columbus, Nebraska
Trombone – Jordan Samuelson from Kearney, Nebraska
Keyboard 1 – Phil Clay from McCook, Nebraska
Keyboard 2 –  Alayana Collins from Gothenburg, Nebraska
Keyboard 3, Flute– Noelle Matthews from Fullerton, Nebraska
Guitars – Carissa Bruner from Leavenworth, Kansas
James Bachman from Thornton, Colorado
Drums – Shane Schultz from Hastings, Nebraska
Percussion – Dalton Ayers from Murray, Nebraska
Bass (Acoustic and Electric) – Caleb Bornman from Dannebrog, Nebraska
PRODUCTION STAFF:
DIRECTORS –  Jim Fritzler and Fritz Mountford
SCENIC DESIGN – Annette M. Vargas
LIGHTING DESIGN – Erik Nielsen
CHOREOGRAPHERS – Randi Scoggins from Hastings, Nebraska;  Alyssa Smith from Hastings, Nebraska
STAGE MANAGER –  Cheyenne Knehans from Riverton, Nebraska
ASSISTANT STAGE MANAGER –  Bachman
ASSISTANT LIGHTING DESIGNER – Mason Lindbloom  from Omaha, Nebraska
HAIR and MAKEUP – Rosa Ochoa from Holyoke, Colorado
PROP MASTER – Dodge Weishaar from Bison, South Dakota
SET CREW HEAD – Barrett Russell form Saronville, Nebraska
BOX OFFICE MANAGER –  Miranda Aschoff from Hastings, Nebraska
COSTUMES CREW HEAD –  Rebekka Ralston from Sutherland, Nebraska
CREW MEMBERS:
Cameron Bargell from North Platte, Nebraska
Alec Chanthapatheth from Loup City, Nebraska
Brad Davis from Hastings, Nebraska
Paige Denny from Fremont, Nebraska
Elphie Forbes from Aurora, Colorado
Melanie Green from Parker, Colorado
Kaitlyn Grothen from Hastings, Nebraska
Jared Jackson from Hastings, Nebraska
Mitchell  Johnson from Lincoln, Nebraska
Alexis  Leonard from Bellevue, Nebraska
Joshua Lohr from Elkhorn, Nebraska (Douglas)
Christian Mesa form Apple Valley, California
Ryan Pavelka from Glenvil, Nebraska
Geena Piper from Norfolk, Nebraska
Nicolette Sanchez from Grand Island, Nebraska
Ben Scheef from Wahoo, Nebraska
Susan Sherman from Springfield, Nebraska
Nolan Sybrant from Bassett, Nebraska
Elijah Williams from Chandler, Arizona