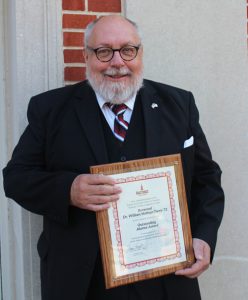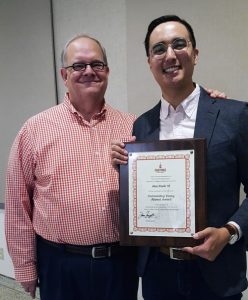 The Hastings College Alumni Association today presented the Reverend Dr. William Nottage-Tacey '72 with its 2019 Outstanding Alumni Award, and announced that earlier this fall it presented Alex Eisele '15 with an Outstanding Young Alumni Award.
William Nottage-Tacey, a 1972 Hastings College graduate and Bronco Award winner, served as pastor of First Presbyterian Church in Hastings from 2004 until his retirement in 2014 and served two terms on the Hastings College Board of Trustees from 1999 through 2012 and 2013 through 2015. He accepted his award during the Hastings College Chapel service today (October 9). He and his wife, Janey, live in Hastings, and are the parents of four children, two of whom also are Hastings College graduates.
Eisele, of Brooklyn, New York, is a 2015 Hastings College graduate and a technology analyst with Goldman Sachs in New York City. He served as the student body president and was named a Who's Who recipient during his senior year. In 2018, he was invited to campus to give the Commencement Address to the graduating class. Eisele accepted his award at an alumni reception on September 14 during the Hastings College Foundation's trip to New York City.
Outstanding Alumni Awards honor Hastings College alumni who have made significant achievements in their professional or personal lives, made a significant contribution to society through personal leadership and service and has demonstrated leadership in support of the advancement or welfare of Hastings College.
Nebraska's premier private college, Hastings College is a four-year institution located in Hastings, Nebraska, that focuses on student academic and extracurricular achievement. Hastings College has been named among "Great Schools, Great Prices" by U.S. News & World Report and a "Best in the Midwest" by The Princeton Review. For more, go to hastings.edu.