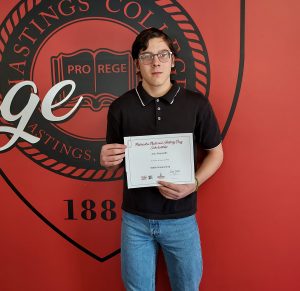 Middle and high school students from across central Nebraska showed off their History Day projects on campus for the district History Day competition on February 24.
Following the 2022-23 theme of "Frontiers in History: People, Places, Ideas," students entered projects on a variety of topics, with winners from each event advancing to the state History Day competition.
A total of 21 projects received honors in their specific category. Eight high school students also received Hastings College history scholarships in honor of their projects placing in the top three overall.
Alex Reynolds, a student at Hastings High School, received first place overall and $6,000 Hastings College Scholarships with his documentary, "The Frontier of Charles Lindbergh."
Laura Kate Oliver, Addyson Hermes, Peyton Criss, Mia Pedroza and Moses Rhodes of Hastings High School received second place and a $5,000 Hastings College Scholarship with their website, "Margaret Sanger: On the Frontier of Women's Reproductive Rights."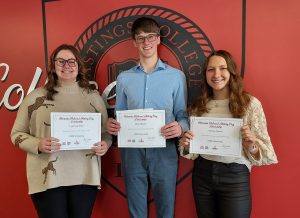 Bianca Truong and Keira Erickson of Hastings High School received third place and a $4,000 Hastings College Scholarship with their exhibit, "The Spanish Flu: Frontier of New Vaccines and Safety Protocols."
Other top award recipients are included below, by division and entry project.
Top Award Recipients
Junior Division (grades 6-8)
Junior Group Exhibit
First Place: Adylynn Krueger and Lindsay Chambers of Hastings Middle School with "The Frontier of the Internet"
Second Place: KJ Daehling, Jackson Dilley and Tallen Mahin of Red Cloud Junior/Senior High School with "The Bubonic Plague"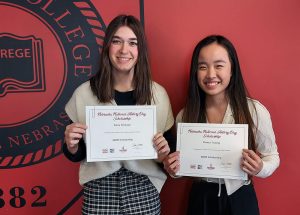 Third Place: Ryleigh Rodriguez, Logan Dack and Memphis Kincade of Red Cloud Junior/Senior High School with "Start of WWI"
Junior Individual Exhibit
First Place: Sienna Aipperspach of Hastings Middle School with "Volleyball – A Game for All"
Second Place: Hadley Borer of Sandy Creek Junior High with "The Abolishment of Slavery"
Junior Group Documentary
First Place: Nolan Rust, Wyatt Favinger, Shane Banzhaf and Cohen Lewis of Red Cloud Junior/Senior High School with "History of the Holocaust"
Junior Individual Documentary 
First Place: Milana Eberly of Hastings Middle School with "Film 1900 to 1950"
Second Place: John Bartunek of Hastings Middle School with "The Organisations of Comedy"
Junior Individual Paper
First Place: Esther Allen-Pickett of Hastings Middle School with "Not an Object: How Women's Reproductive Rights Have Brought New Frontiers to the Workplace and Home for Women in the 1900s"
Senior Division (grades 9-12)
Senior Group Exhibit
First Place: Keira Erickson and Bianca Truong of Hastings High School with "The Spanish Flu: Frontier of New Vaccines and Safety Protocols"
Second Place: Cedric Oeltjen and Dax Shipley of Sandy Creek Senior High School with "Propelling through the American Frontier: The Invention of the Steam Locomotive"
Senior Group Website
First Place: Addyson Hermes, Peyton Criss, Laura Kate Oliver, Mia Pedroza and Moses Rhodes of Hastings High School with "Margaret Sanger: On the Frontier of Women's Reproductive Rights"
Senior Individual Documentary
First Place: Alex Reynolds of Hastings High School with "The Frontier of Charles Lindbergh"
Second Place: Cori Barwick of Hastings High School with "The Carnival that Pioneered the NICU"
Third Place: Mason Hinrichs of Sandy Creek Senior High School with "Gezira Irrigation Scheme"
Senior Individual Exhibit
First Place: Faith Schaaf of Hasting High School with "Dorothea Dix: A Pioneer for the Treatment of the Mentally Ill"
Second Place: Elizabeth Perry of Hastings High School with "Dwight Harken: Pioneer of Heart Surgery"
Third Place: Avery Lowther of Hastings High School with "Moon Cheese: Mankind's Mission to Uncovering the Moon's Mystique"
Senior Individual Paper
First Place: Kaitlyn Drake of Hastings High School with "The Making of a Nation: The Pioneering of the US Constitution"
Second Place: Kinlee Bruce of Hastings High School with "John Douglas: A Pioneer on the Frontier of FBI Investigations"
Third Place: Tripp Bracco of Sandy Creek Senior High School with "The Space Race"