Jordan Dux, the Nebraska Farm Bureau Federation's director of national affairs, is coming to Hastings College to discuss President Donald Trump's economic and trade policies and their impact on Nebraska.
Dux will speak Tuesday, February 6 at 7:00 p.m. in French Memorial Chapel (800 N. Turner Ave.). The event is free and open to the public.
Student leaders of the College's [AG]vocates, HC Democrats and HC Republicans worked to bring Dux to campus. They said they are hoping this event will help model how groups and individuals with differing views can work together for the betterment of Hastings College and the community.
Bio for Jordan Dux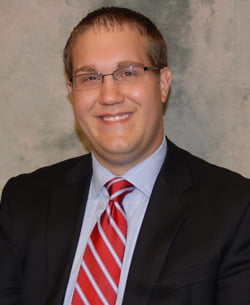 Jordan Dux has served as the Nebraska Farm Bureau Federation's director of national affairs since 2009. He is responsible for coordinating NEFB's national policy development and lobbying program. His responsibilities require him to work closely with the Nebraska congressional delegation, as well as the American Farm Bureau Federation.
Dux grew up on a hog operation near Fairbury, Nebraska, and earned bachelor's degrees in political science and religious studies from Doane College in 2007. Before arriving at Nebraska Farm Bureau, Dux worked on agricultural issues for Nebraska's Third District Congressman Adrian Smith, and also spent time in Washington, D.C. working in the public policy department of the National Grange, the nation's oldest agricultural organization. Dux has worked on numerous local and statewide political campaigns, including Mike Johanns' Senate campaign.  
Hastings College is a private, four-year institution located in Hastings, Nebraska, that focuses on student academic and extracurricular achievement. With more than 60 majors and 15 pre-professional programs, Hastings College has been named among "Great Schools, Great Prices" by U.S. News & World Report and a "Best in the Midwest" by The Princeton Review. For more, go to hastings.edu.