Jerome Dubas, adjunct instructor of ceramics at Hastings College, showcases his "Identity" exhibition in the main gallery of the Jackson Dinsdale Art Center (JDAC) December 6-28. Dubas will host an artist's lecture and reception in the JDAC on December 9 from 7:00 to 9:00 p.m.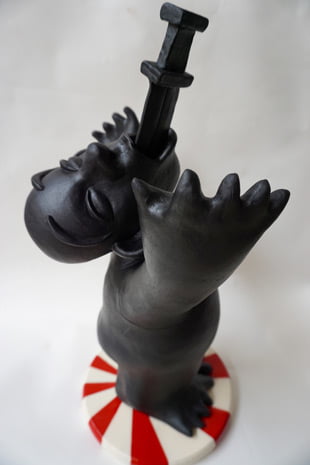 "Identity" addresses contemporary issues that deal with the "precarious nature" of living. The figurative pieces reflect the parallels which exist between circus performers and people navigating the modern world.  
"In the process, I like to balance weighty themes of personal identity with the lighthearted, surreal atmosphere of the circus," Dubas said. "The result is a dark, yet amusing body of work."
Dubas is a graduate of Hastings College, who earned his masters degree from the University of Nebraska at Kearney.  He is also the instructor for the advanced studio art courses at Grand Island Senior High School.
Admission to "Identity" is free and open for public viewing, and personal tours can be scheduled by calling 402.461.7396. With the exception of holiday closures December 23-25, gallery hours are Monday to Friday from 9:00 a.m. to 5:00 p.m., and Saturdays from 9:00 a.m. to 1:00 p.m.
Hastings College is a private, four-year institution located in Hastings, Nebraska, that focuses on student academic and extracurricular achievement. With 64 majors and 15 pre-professional programs, Hastings College has been named among "Great Schools, Great Prices" by U.S. News & World Report and a "Best in the Midwest" by The Princeton Review. For more, go to hastings.edu.