As part of Women's History Month celebrations and Teacher Education Department forum at Hastings College, Judi M. gaiashkibos will speak at French Memorial Chapel on campus on Friday, March 18, from 10:00 to 11:00 a.m.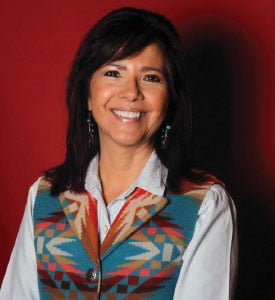 "The Women's and Gender Studies program believes it is important to highlight a variety of women's experiences and histories, including Native American women," said Dr. Michella Marino, Assistant Professor of History. "Nebraska history is often told through the pioneer experience, but there is another side to the history, that of the native groups who originally resided and continue to reside within the state's borders."
Both Marino and Professor Emeritus of Teacher Education William Locke have been working together to bring gaiashkibos to campus.
Dr. Locke has worked with gaiashkibos for the past two and a half years on the State Planning Committee to promote the Chief Standing Bear Trail of 1877 as a National Historic Trail.
Director of the Nebraska Commission on Indian Affairs, gaiashkibos will speak about the rich history and culture of Nebraska's First People as well as some contemporary issues and challenges among Nebraska's tribes. She will touch upon such topics as tribal sovereignty, governance, language retention, Whiteclay issues and more.
"She is an influential spokesperson and a talented leader for the tribes of Nebraska," said Locke.
gaiashkibos is an enrolled member of the Ponca Tribe of Nebraska and earned her Bachelor of Arts degree in human relations and a Master's Degree in management with a leadership emphasis from Doane College. She was recipient of the prestigious Nebraska Humanities Sower Award and was appointed to the Doane College Board of Trustees in 2012.
Hastings College is a private, four-year institution located in Hastings, Nebraska, that focuses on student academic and extracurricular achievement. With 64 majors and 15 pre-professional programs, Hastings College has been named among "Great Schools, Great Prices" by U.S. News & World Report, a "Best in the Midwest" by The Princeton Review and a "Best Bang for the Buck" school by Washington Monthly. For more, go to hastings.edu.