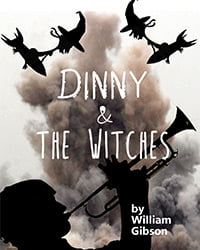 Hastings College's Theatre Department will produce the rarely staged the show "Dinny and the Witches" by William Gibson. This play, a departure from the playwright's best known work, "The Miracle Worker," follows the story of an average, young, American musician named Dinny, as he aspires to attain success.
Performance dates are September 24- 26 at 7:30 p.m. and September 27 at 2:00 p.m. in Scott Studio Theatre (806 N. Turner Ave.) To purchase tickets for the show, contact the Scott Studio Theatre Box Office at 402.461.7380,  Monday through Friday from noon-5 p.m., starting on September 17, or email tickets@hastings.edu.
For the general public, tickets are $8.00, and for non-HC students and seniors, tickets are $5.00. Tickets for Hastings College students, faculty, staff and Crimson Connection members are free of charge.
With personal qualities including, ignorance, selfishness and greed, Dinny believes he deserves nothing but the best, will not give up until he achieves his goals and will not settle for anything less. When Dinny happens upon three witches, all of his wildest dreams are handed to him, leaving him to make a decision that will change the world.
This satirical play has comedy, a cast of Hastings College's students, a live band and a performance full of excitement, this will show will leave you wanting more!
DINNY AND THE WITCHES
Cast
DAWN – Emma Atuire of Denver, Colorado
CHLOE –Grace Rempp of Hastings, Nebraska
BUBBLES – Cheyenne Knehans of Riverton, Nebraska
TOM – Austin Heinlein of Hutchinson, Kansas
DICK – Daniel Bredow of Omaha, Nebraska (Douglas County)
MARY – Laurel Teal of Castle Rock, Colorado
BEN – Nathanael Sass of Hastings, Nebraska
JAKE – Barrett Russell of Saronville, Nebraska
STONEHENGE – James Bachman of Thornton, Colorado
AMY – Hannah Conlon of Isburn, Ireland
DINNY – Mohammed Bouayad of Denver, Colorado
LUELLA – Lexi VanDeWalker of Denver, Colorado
ULGA – Sabrina Maxwell of North Richland Hills, Texas
ZENOBIA – Emma Parish of Sterling, Colorado
The Band
TRUMPET – Carly Cremers of Columbus, Nebraska
KEYBOARD – Elphie Forbes of Aurora, Colorado
TROMBONE – Jordan Samuelson of Kearney, Nebraska
SAXOPHONE – Alex Goerner of Yuma, Colorado
STAGE MANAGER – Tyler Donovan of Denver, Colorado
ASSISTANT STAGE MANAGER – Alyssa Rock of Denver, Colorado
Crew Heads
SCENIC: Dodge Weishaar of Bison, South Dakota
Crew: Alex Rieflin of Doniphan, Nebraska
COSTUMES: Rebecca Holcomb of Parker, Colorado
Crew: Rebekka Ralston of Sutherland, Nebraska
Costume Construction Class
PROPS: Props Class
LIGHTING: Mason Lindbloom of Omaha, Nebraska
Crew: Lighting/Sound Class
Abby Davis of Grand Island, Nebraska
SOUND: Kimberly Villanueva of Kearney, Nebraska
Crew: Lighting/Sound Class
BOX OFFICE: Miranda Aschoff of Hastings, Nebraska
Cheyenne Gerhardus of Black Hawk, Colorado
HAIR/MAKEUP: Randy Scoggins of Grand Island, Nebraska