The Hastings College Alumni Association presented Seth Denney '94 with its 2021 Outstanding Alumni Award during yesterday's NTV News at 6 p.m. newscast. The show was dedicated to Denney to highlight his career with the station.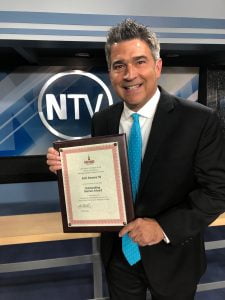 Denney has served as the evening news anchor at NTV for 22 years. He announced last month he was leaving NTV to focus on another business he operates. Denney earned his communications degree from Hastings College and was active on the college's news station Response News as a student.
"Seth has been a respected and trusted anchor, reporter and leader during his tenure at NTV," said Matt Fong, associate vice president of alumni relations. "His career has led him to be one of the most recognizable alumni in the state and throughout the region. We all feel like Seth is a member of the family as he reports the news each night. The Outstanding Alumni Award is a fitting recognition for the incredible work that Seth has done at NTV."
During his time at NTV, Denney has also participated in the Alumni Association's Alumni Speakers Series and has welcomed interested students to the station for shadowing and internship opportunities.
A native of McCook, Nebraska, Denney is married to Melissa; they have three children: Jenna, Josh and Josie. They will continue to reside in Kearney where he will focus on his full-time business, Seth Denney Painting.
Outstanding Alumni Awards honor Hastings College alumni who have made significant achievements in their professional or personal lives, made a significant contribution to society through personal leadership and service, and have demonstrated leadership in support of the advancement or welfare of Hastings College.
Hastings College is a four-year residential college that focuses on student academic and extracurricular achievement. Hastings' student-centered initiatives include providing books, an iPad and a two-week study away experience at no additional cost. A block-style semester schedule allows professors and students to focus on fewer classes at a time and promotes hands-on experiences. Discover more at hastings.edu.