Dallas Brass, one of America's foremost musical ensembles, is coming to Hastings, Nebraska, September 12 and 13 to serve as artist in residence at Hastings Public Schools, conduct master classes with Hastings College students, and perform, both on their own and in a concert with students.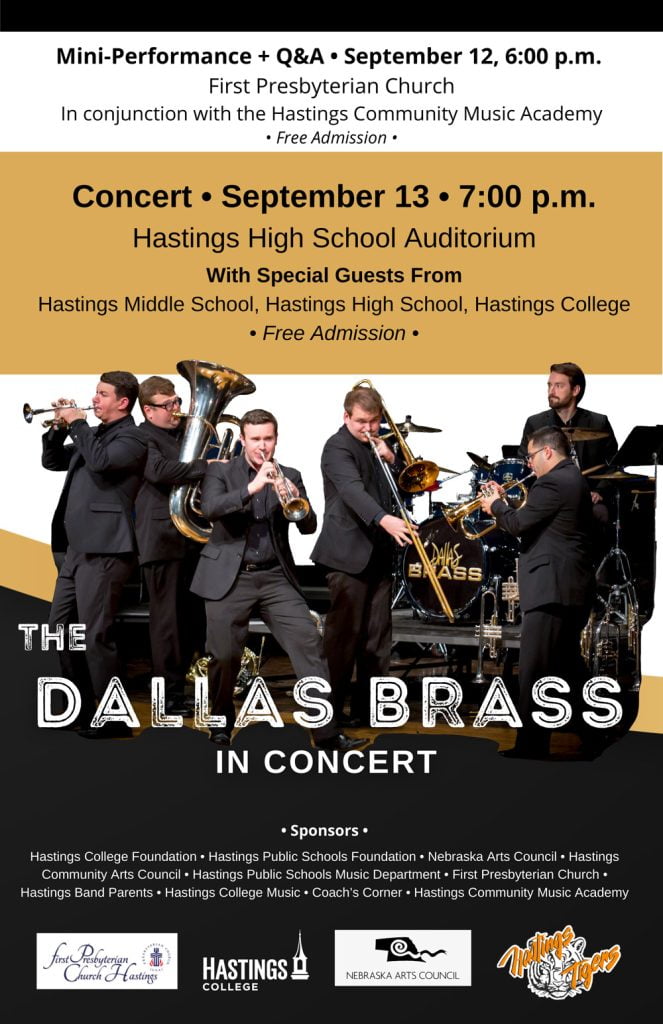 The group, founded by Michael Levine in 1983, plays traditional brass instruments with a full complement of drums and percussion, which allows them to access a wide range of styles including classical masterpieces, Dixieland, swing, Broadway, Hollywood and patriotic music. They have performed for Presidents Gerald Ford and George H. W. Bush, appeared on the CBS "Early Show" and their music has been used numerous times on a television show. Levine played the trombone for the group until he became director in 2015.
The ensemble features Graham Taylor and Brian Neal on trumpet; Juan Berrios on horn, alto horn and flugelhorn; trombonist John Wasson; Paul Carlson on tuba; and percussionist Craig Hill.
During the day on Monday, September 12 members of the Dallas Brass will work with Hastings Middle School and Hastings Senior High School students, participating in their artist in residence program.
Then at 6:00 p.m., the group will hold a mini-performance and an informal question and answer session at First Presbyterian Church (621 N. Lincoln Avenue), in conjunction with the Hastings Community Music Academy. Desserts will be available for those in attendance. This event is free and open to the public.
On Tuesday, September 13, the Dallas Brass will conduct masterclasses for Hastings College music students. They will play, teach and talk about entrepreneurship, and share their philosophy of music education.
The Dallas Brass in Concert begins at 7:00 p.m. September 13 at the Hastings Senior High School auditorium (1100 W. 14th Street). It will feature the Dallas Brass and include special performances by students from Hastings Middle School, Hastings High School and Hastings College. The concert is free and open to the public.
Sponsors who are supporting the Dallas Brass events in Hastings include the Hastings Public Schools Foundation, Hastings Community Arts Council, Nebraska Arts Council, Hastings Public Schools Music Department, First Presbyterian Church, Hastings Band Parents, Hastings College Music, Coach's Corner, Hastings College Foundation and the Hastings Community Music Academy.
More information on the Dallas Brass can be found online at dallasbrass.com.
Artist Bios
Michael Levine (director) is originally from St. Louis Park, Minnesota. He first attended the University of Minnesota and then The Juilliard School, where he received his bachelor of music degree. For three years he held the position of assistant principal trombone in the Jerusalem (Israel) Symphony Orchestra. He continues to serve as the ensemble's master of ceremonies and artistic director. Levine recently created a program called Harmony Bridge, which is designed to connect school band students with people in senior communities around the country.
Brian Neal (trumpet), originally from Miami, Florida, returns to the Dallas Brass after having been a member of the ensemble from 1999 to 2011. During his hiatus, he has been touring, composing, recording and is presently the director of instrumental studies and professor of trumpet at Miami Dade College in Miami. Neal received his training at the Manhattan School of Music in New York City. He has served as principal trumpet for the Miami City Ballet and has also released a solo CD with organist Thomas Schuster entitled, "Reflections."
Graham Taylor (trumpet), originally from Orange County, California, is currently principal trumpet of the La Crosse (Wisconsin) Symphony Orchestra and the Mankato (Minnesota) Symphony. Taylor received a bachelor of music degree from Northwestern University and a master of music degree from the San Francisco Conservatory of Music. Taylor has performed with the Minnesota Orchestra, St. Paul Chamber Orchestra, Pacific Symphony, Long Beach Symphony and numerous others. He can be heard on recordings with Hiss Golden Messenger as both a trumpet player and arranger. Taylor has been on faculty with the Idyllwild Arts Academy, University of San Francisco and the San Francisco Day School.
Juan Berrios (horn; alto horn; flugelhorn), originally from Bayamón, Puerto Rico, is a passionate educator. He works with countless students of all ages across the country each year as a guest clinician, conductor, chamber music coach, marching band instructor, and private instructor. He holds degrees in horn performance and wind conducting from the University of Central Florida and University of Missouri-Kansas City Conservatory, respectively. Berrios currently serves as Instructor of Horn at the Virginia Tech School of Performing Arts.
John Wasson (trombone), born in St. Paul, Minnesota, is a charter member of the Dallas Brass, having played bass trombone in the original ensemble. Wasson pursued a career as a writer, producer and free-lance bass trombonist and tuba player. He returns to the Dallas Brass this season on tenor trombone. He has also been one of the primary arrangers and composers of Dallas Brass' repertoire over the years. His accomplishments outside of Dallas Brass include hundreds of published arrangements and compositions, most notably an arrangement of Caravan heard in the final scene of the 2014 Academy Award-winning motion picture "Whiplash."
Paul Carlson (tuba) grew up in Illinois and began playing the tuba in his sixth grade band. He has completed studies in tuba performance at the University of Illinois, the University of New Mexico, and at the Indiana University Jacobs School of Music. His experience includes the New Mexico Brass Quintet, Santa Fe Symphony Brass Quintet, The King's Brass, the Walt Disney Collegiate All-Star Band, Harvey Phillips Tuba Company, as well as a number of symphony orchestras.
Craig Hill (percussion) is originally from Youngstown, Ohio. He received both his bachelor's and master's degrees at Youngstown State University, majoring in percussion performance and music education. Hill has performed extensively throughout the United States and internationally with the Broadway show Swing!, Tokyo Disneyland, Grand World Voyages Cruise Lines, Billboard Media Group and a special production featuring winners of Grammy Awards. Currently residing in Minneapolis/St. Paul, Minnesota, the "Craig Hill Presents" concert series features local musicians and interdisciplinary artists with a focus on improvisation.
Hastings College is a four-year residential college that focuses on student academic and extracurricular achievement. Hastings' student-centered initiatives include providing books, an iPad and a two-week study away experience at no additional cost. A block-style semester schedule allows professors and students to focus on fewer classes at a time and promotes hands-on experiences. Discover more at hastings.edu.