Attached: Crane Trust Academy students at the Crane Trust site near Wood River, Nebraska.
Twelve high school seniors and juniors interested in wildlife and natural science are spending five days at Hastings College for a summer academy experience designed to focus on the unique ecology of the Platte River.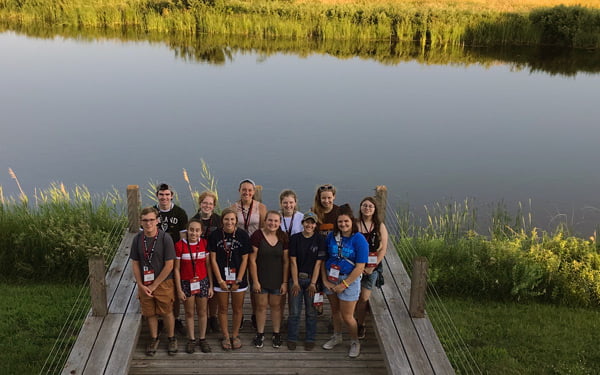 Crane Trust in Wood River, Nebraska, and Hastings College partnered to create the summer experience to give students hands-on research opportunities in the field at Crane Trust while connecting to labs at Hastings College in the Morrison-Reeves Science Center.
The summer academy began Sunday, July 14 and runs through Thursday, July 18. Hastings College faculty and Crane Trust scientists are teaching the students the curriculum for the week.
Students spend their nights in Hastings College residence halls and have many experiences off campus throughout the week, including evening activities around the community, such as a scavenger hunt at Hastings Museum.
As part of the academy, students are getting more in-depth knowledge about ecology and conservation theory and practice, how to use ecology skills to collect scientific data in the field and how to manage and organize data. They are also learning how to use plant and animal survey and sampling methods, how to navigate to points using a GPS and more about habitats, plants and pollinators.
Students selected to participate in the program are listed below.
Camille Anderson, Lincoln, Nebraska
Ian Barnes, Omaha, Nebraska
Carolyn Dillman, Papillion, Nebraska
Alexa Edmundson, Omaha , Nebraska
Alyssa Gonzales, Omaha, Nebraska
Mackenzie Gonzales, Omaha, Nebraska
Noelle Hollingsworth, Eagle, Nebraska
Kalyn Martinson, Newcastle, Nebraska
Joseph Meihak, Pueblo West, Colorado
Hali Merchant, Omaha, Nebraska
Megan Snow, Omaha, Nebraska
Katie Weaver, Plattsmouth, Nebraska
Hastings College is a private, four-year institution located in Hastings, Nebraska, that focuses on student academic and extracurricular achievement. Hastings College has been named among "Great Schools, Great Prices" by U.S. News & World Report and a "Best in the Midwest" by The Princeton Review. For more, go to hastings.edu.