Dr. Brian Corr, Hastings College associate professor of art–glass, will give an Invited Faculty Lecture titled "Continually Becoming" on Wednesday, October 11, at 1:30 p.m. in French Memorial Chapel. The lecture is free and open to the public.
---
A video of the lecture is below.
---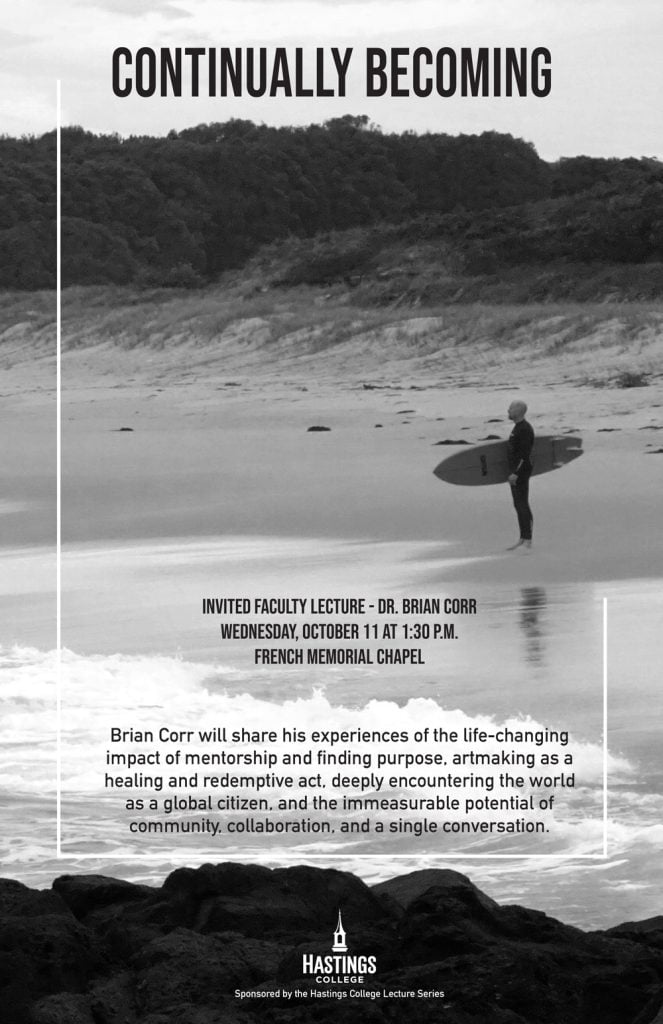 Corr will share his experiences of the life-changing impact of mentorship and finding purpose, artmaking as a healing and redemptive act, deeply encountering the world as a global citizen and the immeasurable potential of community, collaboration and a single conversation.
Corr's presentation is part of the Invited Faculty Lectures series.
Each spring, Hastings College students select two faculty members to present campus-wide lectures on the professors' topics of choice during the next academic year. Considered a prestigious honor for the faculty, the tradition dates to 1967, and is sponsored by the Hastings College Lecture Series. Dr. Rhesa Ledbetter, assistant professor of biology, will give the second Invited Faculty Lecture of the academic year on February 21, 2024.
Biography for Dr. Brian Corr
Brian Corr is a 1999 graduate of Hastings College. His work is held in numerous public and private collections throughout the world, including the National Gallery of Australia, the Art Gallery of Western Australia and the Toledo Museum of Art.
He is a skilled glassblower with more than 27 years of experience. He has taught extensively at schools including the Corning Museum of Glass, the Penland School of Crafts, the Pilchuck Glass School, the JamFactory, Namseoul University, Sydney College of the Arts and the Australian National University.
He worked and studied in Australia for nearly 12 years, and was awarded a PhD from the Australian National University in 2018. His research examined the aesthetic and philosophical elements of contemplative space in Japanese architecture. He then served as an associate professor at the prestigious Toyama City Institute of Glass Art in Toyama, Japan, before coming to Hastings College in 2020.
Hastings College is a four-year residential college that focuses on student academic and extracurricular achievement. Discover more at hastings.edu.