New York–based comedian Todd Barry is coming to The Lark in downtown Hastings for a one-night stand-up comedy performance on Saturday, May 13. The show will begin at 8:00 p.m., with doors opening at 6:30 p.m.
A variety of tickets, including seats in the new mezzanine area, are available at The Lark's website, thelarkdowntown.com.
Barry earned his degree in English in 1986 from the University of Florida. Before beginning his career as a stand up comedian, he was the drummer for an indie rock band, The Chant.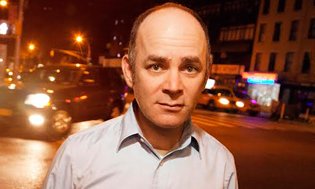 Barry's latest one-hour Comedy Central special is titled "Super Crazy," and boasts multiple stand-up performances on "The Late Show with David Letterman," "Late Night with Conan O'Brien" and "Jimmy Kimmel Live!" He has had a recurring role on Louis C.K.'s sitcom "Louie" and was featured in an episode of the Jerry Seinfeld vehicle "Comedians in Cars Getting Coffee." In addition, Barry has appeared in the HBO series "Flight of the Conchords," "Chappelle's Show" and the 2008 Oscar-winning film "The Wrestler."
After his performance at the Lark, Barry will sign copies of his new book, "Thank You for Coming to Hattiesburg: One Comedian's Tour of Not-Quite-the-Biggest Cities in the World."
Barry's performance is, in part, supported by HC Does Weekends, a Hastings College student-led group that organizes weekend events for students, although this performance is open to anyone who purchases a ticket from The Lark.
Hastings College is a private, four-year institution located in Hastings, Nebraska, that focuses on student academic and extracurricular achievement. With 64 majors and 15 pre-professional programs, Hastings College has been named among "Great Schools, Great Prices" by U.S. News & World Report and a "Best in the Midwest" by The Princeton Review. For more, go to hastings.edu.