Hastings College media students will produce live video stream and complete digital coverage of the 2017 NAIA Division II Women's Basketball Championship March 8-14 in Sioux City, Iowa. This includes producing the live streams of the semifinals and championship games that will be broadcast March 13 and 14 on ESPN3.

For the last 14 years, students from the HC Media team have traveled to Sioux City to cover the tournament. The first four years saw the team broadcast only games the Hastings College women's basketball team played. In 2008, the National Association of Intercollegiate Athletes (NAIA) contracted with Hastings College to have HC Media students produce and stream 28 games, all games but the semifinals and championship, via the NAIA Network.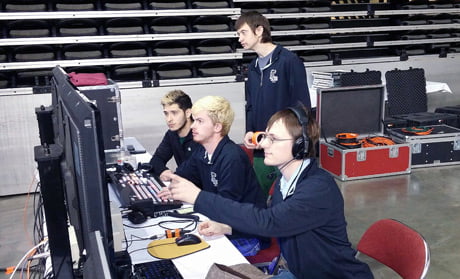 In 2014, NAIA extended the contract to include the semifinal games, which were carried on ESPN3, and then added the championship game, also carried on ESPN3, in 2016.
"Having the opportunity to not only work in a professional environment, but also serve as the only college media program the NAIA contracts to broadcast their championships is a great honor," said Russell Heitmann, senior broadcasting and journalism major from Hebron, Nebraska. "This will be my fourth trip to Sioux City with HC Media, and I have grown so much as a broadcaster and a professional because of those four trips."
The first 28 games will be available through a paid service offered by NAIA Network located on naia.org. Hastings College Lady Broncos games will simultaneously stream free of charge at hcmediaonline.org, including the Broncos 8:45 p.m. game Thursday, March 9 against Friends University.
The semifinal and championship games can be viewed via ESPN3's live-multi screen sports streams available through WatchESPN.com or the WatchESPN app.
In total, the HC Media students will cover and produce 31 games over a six-day period.
"Not many other broadcasting programs in the country allow for this level of hands-on work; it's the best way to learn about sports broadcasting. We've put in plenty of time before the trip as a team, so I think our hard work will show in our production quality," said Jake Zink, a first year broadcasting and sports major from  Lincoln, Nebraska.
The student media team will also participate in an experiential learning lab by developing and maintaining an interactive, informative website covering all aspects of the tournament. This includes game recaps, social media updates, photography and feature stories on players and coaches available through mynaiatourney.org.
"Running a website alongside the live aspects of Sioux City allow students to practice the mediums they are most passionate about," Heitmann said. "Sioux City is the best possible learning environment and practical application of journalism and broadcasting skills. It's a truly phenomenal experience."
HC Media's 2017 crew consists of 20 students from areas of academic focus including, but not limited to, journalism, broadcasting and communication:
Leo Barrientos, a first year student from San Salvador, El Salvador
Sam Bennett, a senior from Bellevue, Nebraska
Jacilyn Bruns, a senior from Grand Island, Nebraska
Jordan Brown, a senior from Kansas City, Missouri
Murilo Ceruli, a senior from San Paulo, Brazil
Andy Chase, a sophomore from Hastings, Nebraska
Dany Cook, a sophomore from Fairfield, California
Jason Feddersen, a first year student from Kearney, Nebraska
Jerod Fox, a junior from Newton, Kansas
Becca Garner, a first year student from Centennial, Colorado
Kirsten Gilliland, a sophomore from Ainsworth, Nebraska
Mallory Gruben, a senior from Eckley, Colorado
Russell Heitmann, a senior from Hebron, Nebraska
Josh Hulbert, a senior from Aurora, Colorado
Patrick Madden, a sophomore from Gering, Nebraska
Will Reynolds, a senior from Colorado Springs, Colorado
Briton Rodenborg, a junior from Pierce, Nebraska
Will Ryan, a senior from Laird, Colorado
Danielle Shenk, a sophomore from Polk, Nebraska
Jake Zink, a first year student from Lincoln, Nebraska
Hastings College is a private, four-year institution located in Hastings, Nebraska, that focuses on student academic and extracurricular achievement. With 64 majors and 15 pre-professional programs, Hastings College has been named among "Great Schools, Great Prices" by U.S. News & World Report and a "Best in the Midwest" by The Princeton Review. For more, go to hastings.edu.