Hastings College media students are in Sioux City, Iowa, where they will spend the next week producing livestreams of the 2018 NAIA Division II Women's Basketball National Championship running March 7-13. These students will also oversee the livestreams of the semifinals and championship games broadcast March 12 and 13 on ESPN3.

Hastings College media students have covered the tournament for the last 15 years. The first four years, students broadcast only games the Hastings College women's basketball team played. In 2008, the National Association of Intercollegiate Athletes (NAIA) contracted with Hastings College to have HC Media students produce and stream all games but the semifinals and championship via the NAIA Network. In 2014 and 2016, respectively, the NAIA extended the contract to include the semifinal and championship games, which are carried on ESPN3.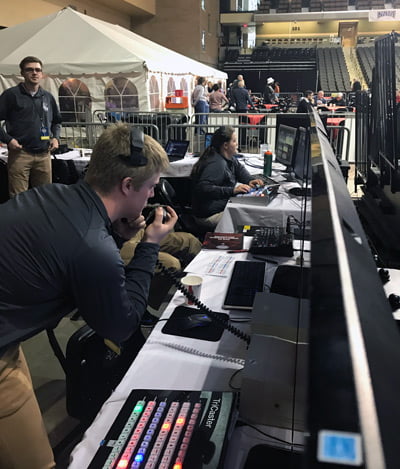 This the second time the Hastings College media team has traveled to Sioux City this academic year, as a student media team received livestreamed for the first time the NAIA Division II Volleyball National Championship last fall.
"As undergraduate students, we are honored that the NAIA continues to ask us to live stream the championship tournaments. It speaks to the quality of the program at Hastings College and its ability to prepare us to produce professional-level broadcasts," said Jake Zink, the team's student broadcasting director. "This is as real-world as it gets for students. We are thrown into the deep end of broadcasting eight games a day; it really gives you a taste for what the industry is like."
The livestream for the first 30 games will be available through a paid service offered by NAIA Network at naia.org. The semifinal games will also be streamed by ESPN3 via WatchESPN.com or the WatchESPN app, while the championship game will be aired exclusively by ESPN3 on WatchESPN.com and the WatchESPN app.
Hastings College Lady Broncos games will simultaneously stream free of charge at portal.stretchinternet.com/hastings, including the Broncos 3:30 p.m. game today (March 8) against Lawrence Technological University.
In total, the HC Media students will produce 31 games over the six-day period.
HC Media's 2018 crew includes:
Dillon Adams, a first-year student from Mitchell, South Dakota
Cameron Bradley, a first-year student from Wichita, Kansas
Sam Bosle, a first-year student from Hastings, Nebraska
Andy Chase, a junior from Hastings, Nebraska
Jerod Fox, a junior from Newton, Kansas
Becca Garner, a sophomore from Centennial, Colorado
Kirsten Gilliland, a junior from Ainsworth, Nebraska
Davis Loomis, a first-year student from Pratt, Kansas
Will Ryan, a senior from Laird, Colorado
Danielle Shenk, a junior from Polk, Nebraska
Jake Zink, a sophomore from Papillion, Nebraska
Hastings College is a private, four-year institution located in Hastings, Nebraska, that focuses on student academic and extracurricular achievement. With 64 majors and 15 pre-professional programs, Hastings College has been named among "Great Schools, Great Prices" by U.S. News & World Report and a "Best in the Midwest" by The Princeton Review. For more, go to hastings.edu.