Written and composed by 2007 Hastings College graduate Colin Sandall, "Coffee Shop . . . The Musical" will debut this spring at The Lark (809 W. 2nd Street). This exploration of love and relationships will run from Thursday, April 9-Saturday, April 11 at 7:30 p.m. and on Sunday, April 12 at 3 p.m.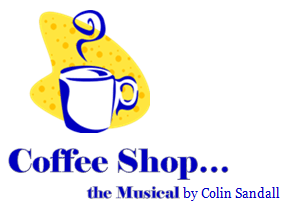 Tickets go on sale to the public on Wednesday, March 25 at Fuhr Hall of Music (723 E. 9th Ave.) or from The Lark by calling 402.984.4073. All tickets for non-students are $10.
For Hastings College students, tickets are $5 and will be available starting Monday, March 23. The first 250 Hastings College students to buy a ticket will get a free HC coffee mug.
Set in "Hometown, America," "Coffee Shop . . . The Musical" follows Ryan and Melanie as they fall in love at first sight, build a relationship and wonder if they are as perfect together as they once thought.
Sandall, a native of Bellevue, Nebraska, currently lives in Overland Park, Kansas, and teaches vocal music at Ottawa Middle School.
Hastings College Department of Music Presents
Coffee Shop. . .The Musical
CAST AND CREW LIST
Directed by Chip Smith, Professor of Music
CAST
Ryan – Joseph Prickett of Hastings, Nebraska
Melanie – Karli Cabrera of Pawnee City, Nebraska
Darryl – Aaron Spracklin of Elmwood, Nebraska
Rachel – Erin Petry of Plattsmouth, Nebraska
John – Matt Seivert of Denver, Colorado
Courtney – Carissa Bruner of Leavenworth, Kansas
Victoria – Sarah Nelson of Colorado Springs, Colorado
David – Colt Hoselton of Juniata, Nebraska
Betty – Tawnny King of Grand Island, Nebraska
Charlie – Johnathan Heredia of Grand Island, Nebraska
Piano by Cynthia Murphy, Assistant Professor of Music