Christopher Williams, a singer, songwriter and percussionist, is coming to Hastings College on Sunday, November 6 to perform during the 5:00 p.m. chapel service in French Memorial Chapel. The service is free and open to the public.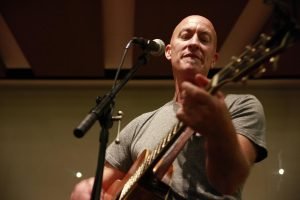 Originally from New York, but calling Nashville his hometown for almost 20 years, Williams is a builder of songs, stories and moments — offering lyrics that are honest and confessional, yet never overbearing; and performances that engage audiences with an appealing mix of intense passion and humor. His job title is singer-songwriter, but after 27 years of full-time touring and sharing his music all over the world, he views his vocation more as a builder; of people, community, sets of music, and even his own home.
Williams has released 12 albums and his newest release, We Will Remember, is a project commissioned by Vanderbilt Divinity professor and friend Jaco Hamman, where Williams wrote 12 songs to accompany Hamman's book entitled "The Millennial Narrative," an encouraging call to churches and pastoral leaders as they step into themes of loss and lament and community inspired by the old Testament Book of Joel; an incredibly timely collection of songs during this season our world is living through.
The First Presbyterian Church of Hastings and the Hastings Community Music Academy are sponsoring William's trip to Hastings, including a songwriting workshop and concert on Saturday, November 5. For details on those events, go to hastingsmusicacademy.com.
Hastings College is a four-year residential college that focuses on student academic and extracurricular achievement. Hastings' student-centered initiatives include providing books, an iPad and a two-week study away experience at no additional cost. A block-style semester schedule allows professors and students to focus on fewer classes at a time and promotes hands-on experiences. Discover more at hastings.edu.