The Hastings College Foundation has launched a new crowdfunding platform that allows the Foundation to launch campaigns to support specific needs for campus organizations, groups and departments. Known as BroncoBOOST, the microsite is similar to other crowdfunding platforms such as GoFundMe or Kickstarter, where donors have the ability to discover, share and donate to causes directly while campaign progress is updated in real-time.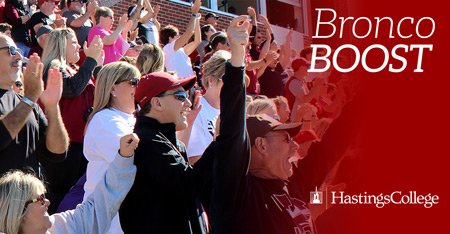 BroncoBOOST is located at hastings.edu/boost, and launched with nine campaigns featuring projects for everything from athletics to the fine arts.
"BroncoBOOST is a great way for those interested in specific projects to build support through social media and encourage giving to something they are passionate about," said Gary Freeman, executive director of the Hastings College Foundation. "It also allows donors who support these campaigns to make contributions without unnecessary transaction fees while taking advantage of the tax deduction associated with charitable giving to Hastings College."
Initial projects in BroncoBOOST include:
Chicago Trip for Art Students — Hastings College art students will travel to the Chicago, Illinois, and explore various art museums, projects and installations.
Tackling Equipment Updates — Football is needing to update it's five-man sled, as the current sled was purchased in the 1990s.
Taking The Show On The Road — Help to provide an opportunity for students in various music ensembles to travel. This year's plans include touring to schools and churches in Colorado, Missouri and Nebraska.
New Volleyballs — The NAIA has switched its ball sponsorship to a different and more expensive ball.
Heart Rate Monitors for Men's Soccer — Coaching staff will have the technology they need to monitor and manage training intensities to better prepare for competition.
Heart Rate Monitors for Women's Soccer — Coaching staff will have the technology they need to monitor and manage training intensities to better prepare for competition.
Banners Celebrating All-American Cross Country Athletes — Design, print and hang banners in the renovated Physical Fitness Facility that honor Bronco cross country athletes.
Cheer and Dance Team Choreography — Allow Hastings College cheer and dance teams bring a new look and fresh energy to the field and the courts this year.
Let There Be (More) Light — Support Hastings College Theatre as they look to update their lighting equipment.
"We are excited about the opportunities this platform brings," Freeman said. "It's a unique way to help unite alumni and friends to support projects on campus and directly impact students and the student experience."
Hastings College is a private, four-year institution located in Hastings, Nebraska, that focuses on student academic and extracurricular achievement. With more than 60 majors and 15 pre-professional programs, Hastings College has been named among "Great Schools, Great Prices" by U.S. News & World Report and a "Best in the Midwest" by The Princeton Review. For more, go to hastings.edu.