Two sisters on the Bronco volleyball team have had more on their mind this semester than just juggling academics and athletics. They've played every game this semester without their father in the audience, and their teammates are recognizing their family's sacrifice and resilience with a fundraiser.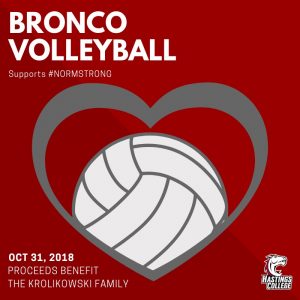 Norm Krolikowski, father of Casey, a senior, and Emily, a first-year student, has been in the hospital since August with complications following a procedure in August. The sisters from Cairo, Nebraska, have  been traveling back and forth to Omaha most weekends this fall and their mother has exhausted vacation time at work.
Free will donations at and a portion of gate admission to the Wednesday, October 31 game against Midland University will support the Krolikowski family with expenses. The junior varsity game is set for 6:00 p.m. and varsity at 7:30 p.m. in Lynn Farrell Arena (800 E. 12th Street).
"This has been an ongoing all season and we've been supporting Casey and Emily the best we can. We wanted to do one big thing for them before the end of the season. Norm has yet to see the girls play this year, and we're not sure if he'll be able to, but we can at least help out a little with all of the travel their mom has to do back and forth," said head volleyball coach Matt Buttermore.
The Krolikowski family said they're hopeful Norm may be able to go home from the hospital by Thanksgiving.
Hastings College is a private, four-year institution located in Hastings, Nebraska, that focuses on student academic and extracurricular achievement. Hastings College has been named among "Great Schools, Great Prices" by U.S. News & World Report and a "Best in the Midwest" by The Princeton Review. For more, go to hastings.edu.