The first 2021 senior art exhibition, "Blueprint," is open now through April 23 in the Jackson Dinsdale Art Center and features work by four Hastings College seniors. The artists will give a lecture on their work Sunday, April 11 at 11:00 a.m. in the Wilson Center (714 E. 9th Street), with a gallery reception to follow in the JDAC.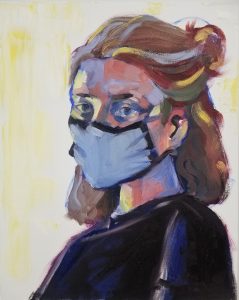 The JDAC gallery, at 700 E. 12th Street, is free and open to the public. Gallery hours are 9:00 a.m. to 5:00 p.m. Monday through Friday. Face masks are required inside the JDAC and the gallery's capacity is limited.
This senior showcase includes paintings created by Sam Crossett of Sandpoint, Idaho; sculptures created by Benjamin Friend of Lincoln, Nebraska; photography by Olivia Arden of Yorba Linda, California; and intaglio and monotype prints by Karlie Norton of Littleton, Colorado.
Crossett, an art major and political science minor, uses oil painting to discuss self confrontation, advocacy and moral pluralism and its importance in health through self portraits.
Friend, an art major with a minor in philosophy, uses repetitive processes and custom algorithms to create structures from wood and steel. "These sculptures explore the relationship between change from stimulus outside of one's control and a self determined path," Friend said.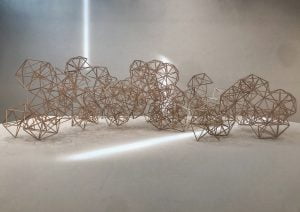 Inspired by the vibrant colors and life found on the West Coast, Arden, an art and marketing double major, is exhibiting "The Comfort Zone," which depicts midwest domestic architecture in a new light.
"There is an exigency for comfort and stability during these uncertain times. We've maxed out on complexity; we are living it," Ardyn said. "The angles and shapes throughout my work echo each other and are in communication with one another, merely hinting at a potential story. The refreshing simplicity of The Comfort Zone is my way of paying the comfort I find in our everyday surroundings forward."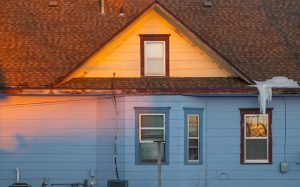 Norton, who is double majoring in art and psychology, has had work included in multiple juried exhibitions at Hastings College and the O'Keefe Elevator Company. For her thesis show, Norton chose intaglio and monotype prints that "work towards creating a representation of embodied cognition, a psychological theory, which suggests that our thought processes and learning are impacted by our bodies and in turn, our minds by our bodies."
With hands as subject matter, Norton said her work "celebrates this subconscious exchange. Interwoven gestures attempt to report on complex thoughts and emotions."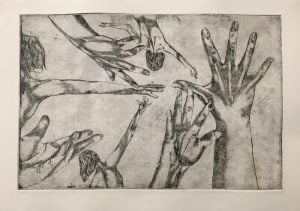 A second senior art thesis show will open April 28 and run through Sunday, May 16.  Lectures for the second group of studio art thesis students will be held on May 2 at 11:00 am in the Wilson auditorium with a gallery reception to follow.
Hastings College is a four-year residential college that focuses on student academic and extracurricular achievement. Hastings' student-centered initiatives include providing books, an iPad and a two-week study away experience at no additional cost. A block-style semester schedule allows professors and students to focus on fewer classes at a time and promotes hands-on experiences. Discover more at hastings.edu.