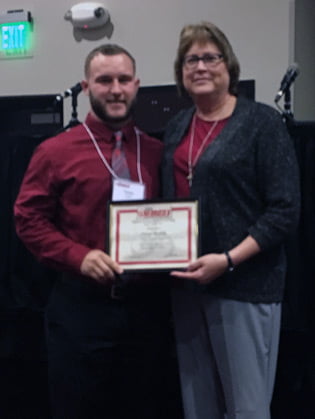 Two individuals from Hastings College were recognized recently by the Society of Health & Physical Education–Nebraska (SHAPE Nebraska).
Trevor Birdzell, a senior from Lincoln, Nebraska, majoring in physical education and exercise science, was recognized by the awards team at the annual SHAPE conference as the Outstanding Physical Education Major of the Year, one of four major of the year awards. This is the third year in a row a Hastings College student has received this award.
Becky Hamik, chair of Hastings College Physical Education and Human Performance Department, received a SHAPE Service Award and the organization's Presidential Citation.
Other nominations were submitted by colleges and universities across Nebraska.
SHAPE provides workshops and conferences to Nebraska professionals engaged in the fields of health, physical education, recreation, dance, nutrition, public health and exercise science. It also promotes healthy lifestyles through leadership, professional development and advocacy in those same areas.
About 250 people attended the annual conference, which took place at the Younes Conference Center in Kearney, Nebraska.
Hastings College is a private, four-year institution located in Hastings, Nebraska, that focuses on student academic and extracurricular achievement. With 64 majors and 15 pre-professional programs, Hastings College has been named among "Great Schools, Great Prices" by U.S. News & World Report and a "Best in the Midwest" by The Princeton Review. For more, go to hastings.edu.